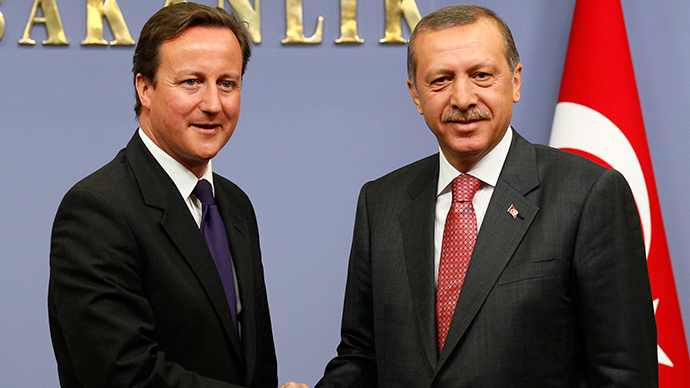 Ankara, December 9, 2014 / Independent Balkan News Agency
Review Hari Stefanatos
The British Prime Minister David Cameron will travel to Turkey, on Tuesday, where he will meet with President Recep Tayyip Erdoğan to discuss mainly how to prevent Britons from going to Syria and Iraq to join the ranks of the organisation of the Islamic State ISIS via Turkey", announced his spokesperson.
The visit takes place after Britain's announcement last month that it faces the greatest threat to its national security in history, partly because of the risk raised by the British who return to their country after having participated in the IS's operations and may continue the jihad on British soil.
"The focus, especially given the current events in Syria and Iraq and more widely in the region, will be on tackling terrorism and ISIL", said the spokesperson of Prime Minister Cameron using the previous name of IS.
Many of the approximately 500 Britons, which in London believes to have gone to the area to join the ranks of the IS have used Turkey as a transit area. Almost half of them are believed to have returned to Britain.
"Of course, people who travel abroad from the UK to participate in terrorist activities are the issues that we have (put) in our relationship" with Turkey, added the spokesperson of the number 10 of Downing Streett.
Cameron will meet with the Turkish Prime Minister Ahmet Davutoğlu on his arrival in Ankara and then in the afternoon with Erdoğan, said his spokesperson.