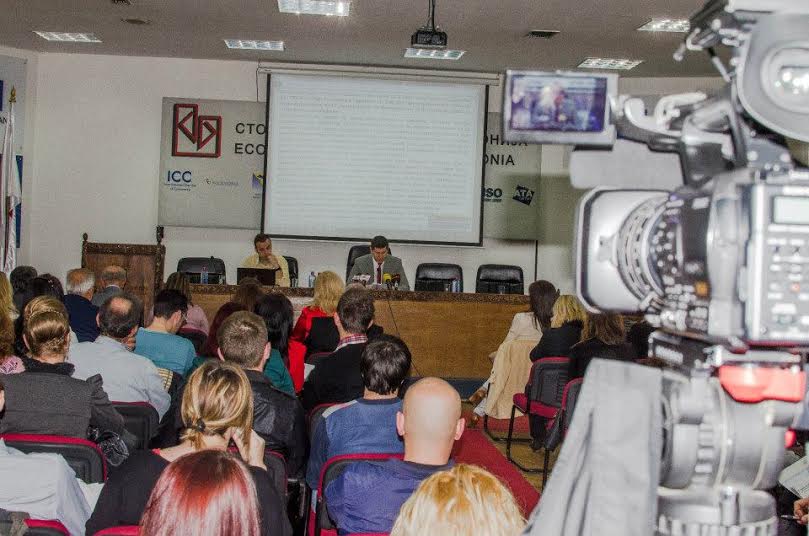 IBNA Special Report
Skopje, October 7, 2014/Independent Balkan News Agency
By Naser Pajaziti
Journalists in the country and the region are discussing in Skopje on the freedom of speech and legal reforms in the media. This conference, organized by the Association of Journalists of Macedonia and European Federation of Journalists, called on the release of the jailed Macedonian journalist, Tomislav Kezarovski, who is suffering a four year sentence, a sentence which was considered unfair by the association of journalists.
The head of EFJ, Morgens Bjerregaard, appealed to authorities in Skopje to respect the freedom of media and to offer the necessary conditions for a free climate of information.
"The freedom of media and journalists is the basis in every democracy and journalists in every society must have the freedom of speech and investigation, in order to inform people on the truth", said Bjerregaard.
He called on the government to stop its pressure on the media, because according to him, the media must do its job.
The head of the Association of the Journalists of Macedonia (AJM), Naser Selmani said that it's necessary to harmonize the country's legislation with international norms of freedom of speech. "We urge for pressure to stop along with restrictions applied on different media, to have impartiality in courts, full transparency of government media campaigns, impartiality by the regulatory media authority and protection against political and economic influences", said Naser Selmani.
Independent journalist, Suat Sakipi said that the influence of politics on the media is evident, but the issue now is how to come out of this situation. "It' normal that media faces with the influence of stakeholders, who decide their agenda. But, the necessary conditions must exist for this pressure to be eradicated. On the other hand, I believe that the media must insist in order not to fall a victim of this influence", said Sakipi.
This conference also stressed the international relations that rank the country among those countries with partially free media and censorship. But, participants also discussed on the imprisonment of journalists.
"A lot of pressure is being exerted in Macedonia by the government and in case the journalists doesn't comply to the predefined rules, then he challenges the government and he will face punishment", said journalist Ardian Mehmeti.
According to him, there's the case of Tomislav Kezarovzki, who is suffering a prison sentence for revealing the identity of a witness under protection in a case which had closed several years ago, but like it was said, Kezarovski had launched an investigation over an affair which damaged the current government.
For several days, EFJ delegation will be informed on the state of the media and the functioning of many newsrooms, which have raised the alarm of facing a lot of pressure by the current government. /ibna/