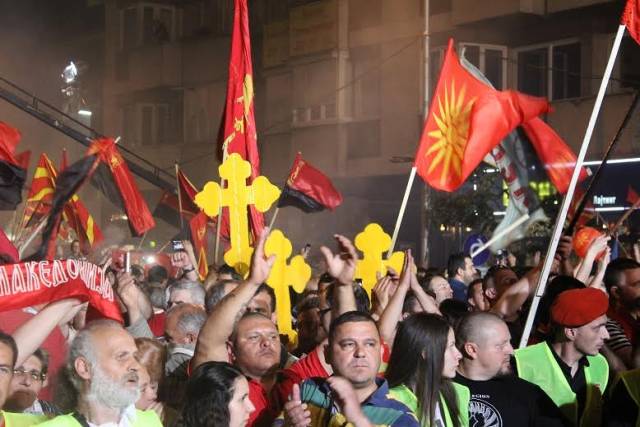 Social networks in FYROM have intensified their language of hate. Part of this campaign are also the graffiti written in several areas of Skopje, which are against the application of two languages in the country and send threatening messages against the opposition led by the social democrats. "Don't ruin the state of Macedonia!", "Revolver!", "Zaev is a traitor!", "We will not allow Albanians to make this an Albanian country" are some of the messages that have been written all over Skopje. But this language of hate has also been present in social networks.
Intellectuals, actors, analysts and professors often talk about dangerous scenarios, in case the government is led by Zoran Zaev. Social networks warn a possible cross ethnic conflict and civil war. The least case is the one concerning analyst Toni Naunoski, a supporter of VMRO-DPMNE and chairman of the Anti-Discrimination Commission in FYROM. He says that the president of the country must not give the mandate to Zoran Zaev to implement an anti-constitutional program.
"If SDSM and Albanian parties gather parliament with the aim of forming a government, then this would be a coup d'etat. In this case, the head of the state declares the state of emergency and all of the participants in the coup d'etat are arrested", Naunosvski said.
Prominent film director, Boris Damovski has commented these developments by saying that there are no threats for a conflict and that it is not true that VMRO-DPMNE's members are mobilizing for such acitivities.
"Now we're hearing about the idea that VMRO-DPMNE is being mobilized, while the opposing side has been fully mobilized during all of this time. We had tensions then, but not now, Damovski says.
One of the heads of the protest known as "Colored Revolution", Zamir Memeti believes that this vocabulary is spreading the language of hate, in order for people to be provoked. Albanians and Macedonians passed the maturity test since the events of May two years ago in Kumanovo, when there was an armed clash in the quarters of this city", Memeti said. /balkaneu.com/