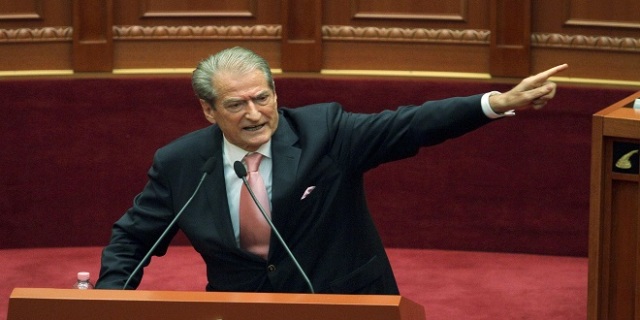 Tirana, 22 April 2016/Independent Balkan News Agency
On Thursday, parliament in Albania has lived another difficult moment. Accusing Rama's government of being "a criminal organization", former Prime Minister Sali Berisha has called on the citizens to be armed.
"Today, I have a request for the Albanian citizens. For the sake of their safety, I call upon them to be armed, to protect themselves, their homes and their wealth", Berisha said.
Then, Mr. Berisha addressed a message to the government: "If you, as a criminal organization want to terrorize the opposition and the citizens, I assure you that the opposition and the citizens are ready to react".
The minister of Interior, Saimir Tahiri reacted immediately by considering the declaration made by former PM Berisha as a "criminal and anti constitutional call".
"I don't know how this parliament continues its proceedings.  I don't think there's a more criminal and anti-constitutional appeal than this one. If you publicly call for violent acts, this is a criminal offense. I call on the prosecution to take measures for this man who has the courage to call the citizens to the arms", minister Tahiri said.
Meanwhile, the majority has addressed a request to the parliament's bureau to react against these declarations. Thursday's event in parliament is expected to further mount political tension in the country, while political parties are encouraged by the international community to approve the reform in the judiciary system. /balkaneu.com/