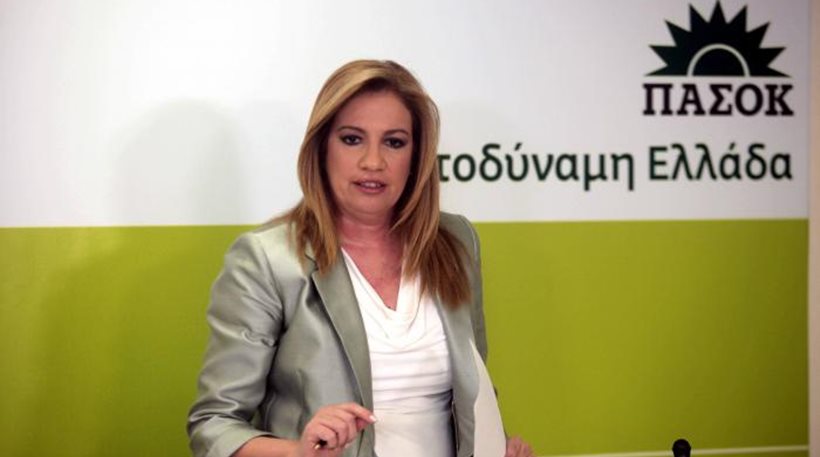 Athens, October 15, 2015/Independent Balkan News Agency
By Spiros Sideris
"We want to be the catalyst of a great majority current of the progressive democratic party, which will not be an excuse or a crutch neither to neo-liberal and conservative circles of the New Democracy, nor to the populist blurry and supposedly leftist practices of Syriza", said the president of PASOK, Fofi Genimmata, speaking at the conference of the Network for Reform.
In the presence of former prime ministers Kostas Simitis and Panagiotis Pikrammenos, the former Italian Prime Minister Massimo D'Alema and many leaders and members of the Democratic coalition (Kostas Laliotis, Yannis Maniatis, Yannis Mangriotis, Kostas Triandafylos, Nikos Sifunakis etc.), Genimmata extended her arm to the remaining forces of the center left area, stressing that "it is time to take our decisions. Leave aside our egos and the search for 'roles' and join forces. The call I make is clean, open and continuous", adding that she seeks the participation of all those who feel they belong to the progressive socialist democratic political space. She also announced a conference in the coming months with the participation of the forces of the progressive space.
The President of PASOK, noted that they never believed that there is a dividing line between the Right and the Left, and that it seeks the united majority center-left of solutions. "PASOK and the Democratic coalition are here to bring back the hope that was buried by SYRIZA with the third memorandum which was unnecessary", she said, adding that "we are putting an end to the forfeiture of progressive space and formulate a clear proposal needed by society".
Genimmata assured that PASOK and the Democratic coalition have as a priority a programme for reforms, a viable state, a new way of developing and an equitable financial framework. She noted that the debt restructuring must be done within the framework agreed in 2012, rather than – as she said – the cries for "haircuts" made by SYRIZA. "Major progressive reforms are required, based on the four principles, Democracy, Solidarity, Development and Social Cohesion", she said at another point.
She elaborated on the temporal achievements of PASOK in the major changes that were made, as well as the errors and omissions. Referring to the development plan that the country needs, the leader of PASOK argued that "the country needs an investment shock, based on private enterprise and in particular the greek entrepreneurship. We must support the productive forces, young people who want to contribute to the national wealth, those who express their creativity in greek society. At the same time, all citizens should have  equal access to the state safety net for the unemployed, the poor. Syriza's proposal for the management of the crisis is not a Left proposal".
She elaborated on seven goals for the future of Europe that lead to its political unification, federal logic, and preventing the strengthening of national states.