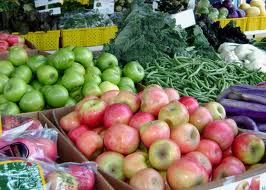 By Natasa Radic – Zagreb
A peaceful protest of Croatian market vendors and sellers is announced for this week and they will gather at St Mark's Square in Zagreb (the address of the seat of government). Beofre that, they will start the protest at the market Dolac (main market in the center of the city).
The reason for protesting is the fact that starting from July 1st, the newest lap of fiscalization came into force and it means in practical life that all retailers, including those in markets, have  an obligation of doing businesses through fiscal cashier. Only family farms are not included in the new regulation. Representatives of the markets, tenants and sellers oppose fiscalization and they have proposed a three-month moratorium for fiscalization on markets during which they would, in collaboration with the Ministry of Finances, find a solution to this problem. Ministry of Finance has not so far agreed on this proposal.
Trznice Zagreb (Market Zagreb) spokesman Miroslav Pupic Bakrac argues that the new solution must be found, estimating that this would allow freedom of conducting business for people who sell at markets.
President of the Association of Croatian markets Niko Pervan told reporters that they were received by the President Ivo Josipovic and at the meeting they had the possibility to outline their problems.
On the first day of the last round of fiscalization, the markets are empty and there is no business-as-usual atmosphere in between full stalls of fruits and vegetables. The shutdown of Zagreb market is still undergoing.
In Splitm  vegetable and fish markets have a month more to prepare and adjust for the fiscalization, said the mayor of Split Ivo Baldasar, which has promised to talk with Finance Minister Slavko Linic in order to give some suggestions how the problem could be solved.
-I want to take this opportunity to say that the markets must provide electricity, wireless internet and other infrastructure in order that the fiscalization functions – said the mayor Baldasar at a press conference.
-We will strike until our demands are met – says Vanja Krahulec, a seller on one of Zagreb's market.