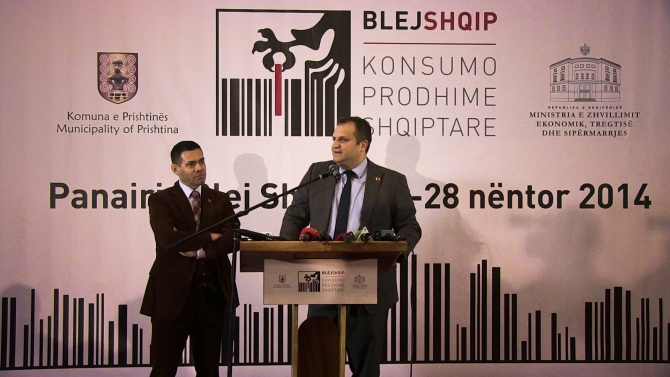 Pristina, November 28, 2014/Independent Balkan News Agency
By Elton Tota
Squares in Pristina saw on Friday the official opening of the "Buy Albanian" fair with domestic products, which has been organized by the commune of Pristina and Minister of Economic Development of Albania, on the occasion of November 28, the National Day.
During his speech, the mayor of Pristina, Shpend Ahmeti said that the promotion of domestic products is not an emotional issue, but it's an economic concept, which develops the economy and opens new jobs.
"Promotion of domestic products is not an emotional issue. Albanian products must not be bought just because they're Albanian. This is an economic concept, because it's the direct link between the consumption of domestic products, development of production and creation of new jobs", Ahmeti said.
"Commercial exchanges between Albania and Kosovo are very small as opposed to the potential that Albanians have to produce, to trade among each other in order not to import as much as they do and strengthen the Albanian nation economically and the creation of new jobs", said Ahmeti.
Albanian Minister of Economy, Arben Ahmetaj said that commercial exchanges between Kosovo and Albania must be boosted, while stressing that this fair will show that Albanians know how to produce.
"I agree with Shpend that 'Buy Albanian' is an economic concept and not an emotional one. It's something which must be told to all Albanians, that we know how to produce for our needs and for export", Ahmetaj said.
Ahmetaj said that the Albanian market and the market of Kosovo are not two separate markets and according to him, not a lot has been done to integrate both markets like they should integrate.
Mayor Ahmeti and minister Ahmetaj, after they promised that they would exert their influence in order to avoid delays in trade, they visited the stalls and wooden houses of the fair, which has gathered 113 Albanian companies from Kosovo, Albania and FYROM. /ibna/