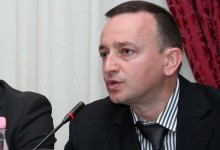 Tirana, August 11, 2014/Independent Balkan News Agency
Konfindustria demands from parliament and justice institutions to professionally assess the scandal of the heist at the Bank of Albania in order to hold structures and individuals of every level criminally, civically and morally responsible.
In the quality of the representative of businesses, Konfindustria says that the theft at the Bank of Albania, besides affecting the stability of the financial system, is the most significant event so far, which shows how poorly institutions that regulate strategic markets in the country, where the banking sector is one of the most important ones, are being managed.
General Administrator of Konfindustria, Gjergj Buxhuku declares that the latest event at the Bank of Albania explains why the banking sector in Albania shows clear signs of an oligopoly which damages the public interest, with almost zero growth of lending, the unreasonable outflux of Albanian money abroad and expensive loans in the region which encourage the dangerous phenomenon of loan sharking.
Konfindustria also says that if the event at the Bank of Albania is not investigated, then this may have a very negative impact on the confidence of investors in institutions and Albanian state with long term grave consequences for the economy and wellbeing of the Albanian citizens. /ibna/