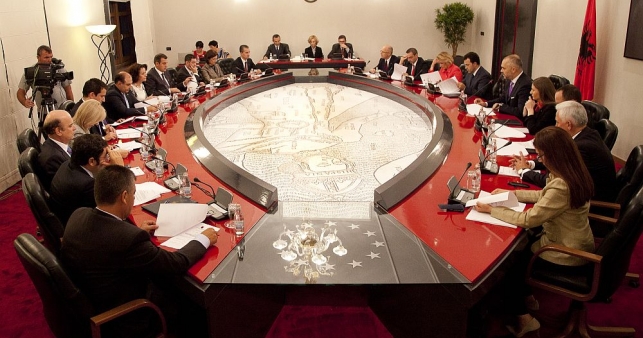 Tirana, September 16, 2013
Albanian and international private businesses grouped around Konfindustria, demands from the new government not to change the taxation system in the country.
General Administrator of Konfindustria, Gjergj Buxhuku says that current flat tax of 10% is a good one and is the same with the taxes of several other countries of the Balkan region.
"Progressive increase of the taxes projected by the government of the new government (photo) for large companies would decrease the interest of foreign business and also domestic businesses to invest in Albania, because competitive countries in the region such as Serbia, FYR Macedonia, Bulgaria, etc, apply a 10% flat tax or lower", says Mr. Buxhuku.
According to Konfindustria, at a time when the Albanian economy has felt the consequences of the global crisis, there will be a constant need to attract foreign investments, therefore encouraging taxation policies are important.
"Konfindustria advises the new government to apply a high tax than 10% for commercial operators that work in privileged conditions with state licenses, which secure them markets of monopolies or oligopolies, and as such, they make higher earnings than the average on a national level. In all cases of free and competitive markets, the application of progressive tax would have consequences in the long term development of the country", said Buxhuku.
Konfindustria is also against the application of progressive tax on the system of wages in Albania: "There must be caution for the policy announced by the new government, about the application of a higher progressive tax than 10% on personal incomes of Albanian citizens. Care should be shown in order not to create the necessary conditions to facilitate tax evasion and to damage the middle class in Albania".
On the other hand, Konfindustria supports the projected reduction by up to two times to the tax on small businesses, by advising to use as a referral basis the one that exists today, 10%.
Speaking about the plans of the government of Edi Rama for the next 4 years, Mr. Buxhuku says: "In principle, we support the objectives of the economic program of the new government voted on June 23, 2013".
Meanwhile, the business sector wants to know the ways, means and the time when these objectives will be met.
These things need to be explained as soon as possible, fully and in a professional way by the representatives of the new government. /ibna/