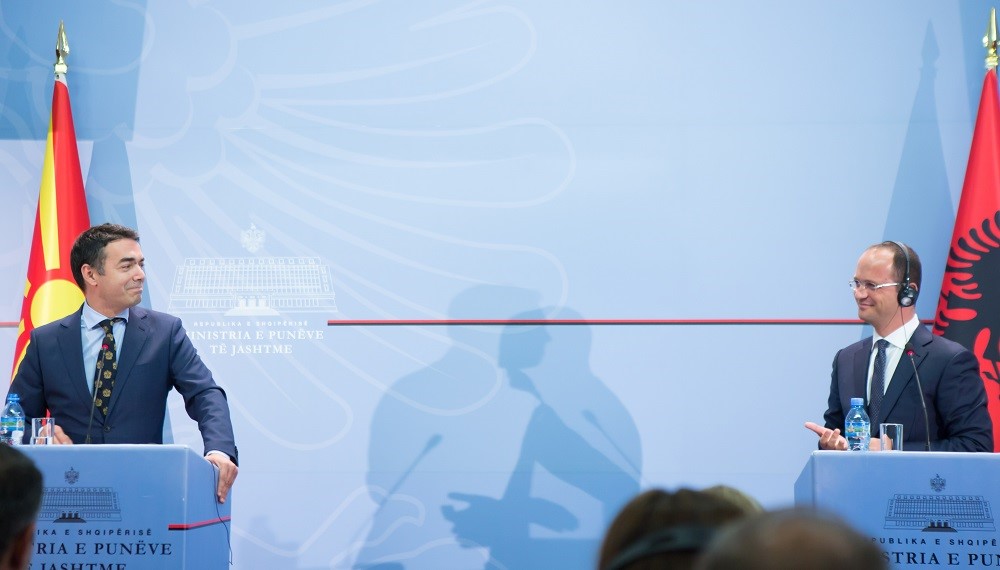 "Following the meeting between PM Rama and Zaev in Trieste, we have agreed on holding the first joint government meeting between the two governments, which will be held in the fall in Pogradec. This will be important to implement strategic projects which are also supported by international partners".
This was declared today by the Albanian Foreign Minister, Ditmir Bushati in a press conference that he held today with his Macedonian counterpart, Nikola Dimitrov, who is holding an official visit to Tirana.
On behalf of the Albanian government, Bushati praised the determination of the new authorities in Skopje to overcome the crisis, to guarantee stability, strengthen the rule of law, continue the reforms and continue the path of FYROM's accession in the NATO and European Union.
"Albania is willing to consolidate its relations and a new project of cooperation which focuses on the way how commitments between the two countries are implemented in practice", Bushati said. Meanwhile, he also encouraged the advancement of the rights of Albanians in the neighboring country.
"Achieving equality between Albanians and Macedonians in line with the Ohrid Framework Agreement and the Declaration of the Albanian Parliamentary Parties, is a key factor for the development and strengthening of a democratic, multi ethnic and integrated Macedonian in the NATO and EU", the Albanian chief of diplomacy said.
On his party, the Macedonian diplomat praised the support given by Albania for cooperation and for the Euro-Atlantic cooperation of FYROM, stressing the commitment of the government of his country to continue the intensification of reforms recommended by the European Commission.
"Today's visit is of a great importance, because we agreed on doing more than political declarations. We would like to pass into concrete projects in the best interest of the citizens of both countries. Political will is important to deliver important projects", Dimitrov said. /balkaneu.com/