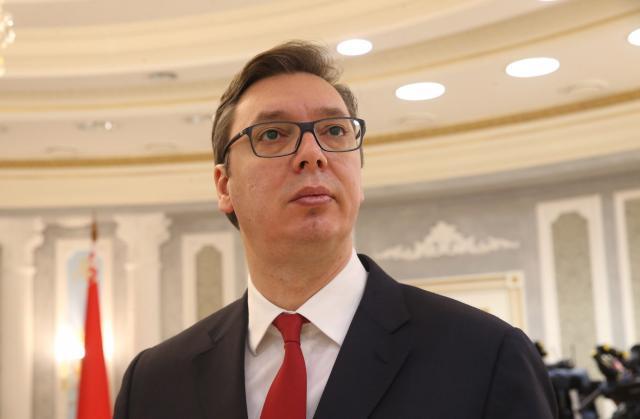 A total of more than 60 buses carrying Serbs headed for Leposavic have been stopped this Wednesday in various locations south of the Ibar River.
The Serbs were traveling to this town in northern Kosovo to attend a rally organized to support the presidential bid of Serbia's prime minister, Aleksandar Vucic.
Tanjug was told by the provincial committee of Vucic's SNS party in Kosovo that a total of about 3,000 people have been prevented from passing through and reaching Leposavic.
According to initial reports, roads were blocked near Novo Brdo, Velika Hoca, Strpce, and Gorazdevac. B92's reporter in Gracanica said that all buses have had to go back.
According to unofficial information arriving from the field, the roadblocks have been the work of the members of the police, "ordinary citizens using their cars," and also, by the members of the special police unit Rosu.
The news agency Srna said that some 30 buses carrying Serbs from the Kosovo Pomoralje district had to go back after members of the radical Albanian Self-Determination movement attacked the vehicles with stones near Labljane, on the Gnjilane-Gracanica road.
Kosovo Assembly member Bojan Mitic (Serb List) said that the Kosovo police stopped the buses in two locations, near Milosevo and Vucitrn, and that passenger vehicles were also being prevented from passing.
He said that in addition, members of the Rosu unit stopped and search three buses carrying Serbs from Strpce.
In various ways, around 60 buses in total have been stopped, Mitic said, and concluded: "This democratic act of the Kosovo police is beyond the pale."
Marijan Saric from Orahovac told Beta that a group of about 20 ethnic ALbanians used their cars to block the buses headed to Leposavic from Velika Hoca.
According to earlier announcements, the SNS election rally in Leposavic will be addressed by one of the party's vice presidents, Marko Djuric, and SNS Presidency members Nikola Selakovic and Bratislav Gasic.
Aleksandar Vucic planned to speak at the rally himself, but canceled the trip over what he said was "pressure and blackmail" coming from Pristina.
"It was meant for me"
Commenting on Wednesday's stoning of buses carrying Serbs who wanted to attend the rally in Leposavic, nothern Kosovo, Serbian PM Aleksandar Vucic said the "welcome" had apparently been prepared for him.
"They (the perpetrators) prepared a welcome and I thank them for that, but to me it is important that people around the world have seen what they are doing over there, and it is equally important to me that our people in Kosovo and Metohija know that we will always protect them. I apologize to them for the trouble," Vucic said./IBNA
Source: B92