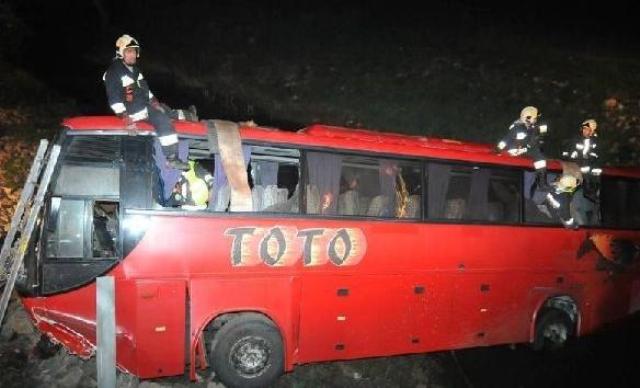 Skopje, April 26, 2013-A serious accident has occurred in the early hours of Friday near Budapest, when a bus travelling from Skopje to Prague has left the road and fallen in a precipice. As a result, 21 citizens from FYROM have remained injured.
One of the passengers is in a serious condition as a result of the wounds that he suffered. Apart from the FYROM citizens, another 4 Czech and 3 Bulgarian citizens have been wounded.
FYROM Foreign Ministry confirmed the accident through the embassy in Budapest and said that its representatives are talking to the Hungarian authorities at the location of the accident in order to obtain all the details.
The accident has taken place at 1.05 am in junction 50 before Budapest, near the town of Ger. The accident is suspected to have happened due to the fact that the driver fell to sleep.
The accident has left the highway and ended up in a ditch, where it was pulled out by the firefighter forces through the use of a crane.
Authorities claimed that after the accident, the driver has been arrested by the Hungarian police and charged with carelessness. Hungarian Police are also investigating other causes of the accident. /ibna/