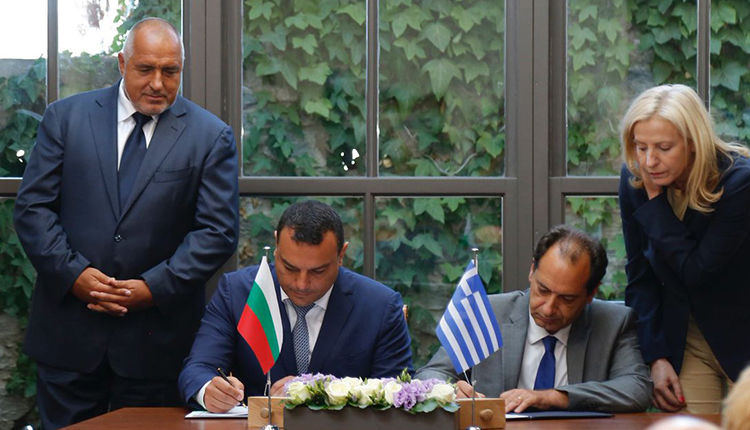 Greece and Bulgaria can play a significant role in the Balkans, signalling the region's stability and development, Bulgarian Prime Minister Boyko Borisov said on Wednesday.
In statements after the signing of a memorandum of cooperation between the two countries for the construction of the new railway link connecting six major commercial ports in Greece and Bulgaria, Borisov stressed that it is a shared project that will significantly improve infrastructure in both countries.
The Bulgarian prime minister thanked all those who contributed to this important project, while he personally thanked the Greek prime minister because, as he said, he helped the country emerge from the economic crisis.
"The signing of the memorandum", Borisov said, "is a continuation of the development of energy and transport infrastructure, a continuation of the interconnection of the regions with the movement of goods, people and the strengthening of the tourism sector",
Referring to the project now under construction, he announced that "in the forthcoming quadrilateral meeting in Varna, we will integrate our Romanian and Serb counterparts because the project also concerns transport on the Danube and the strategy for the Danube […] so it is very important that we include these countries".
In addition, it was an opportunity "to show our European partners how important the regional projects being developed in our region are", Borisov added, saying this was significant in terms of the EU structural funds and "our stance towards the European Bank with regard to securing financing".
"In this way, we will convince our European partners that in presenting a document today, we are indeed aiming to carry out important infrastructure projects", he said.
Borisov also announced that, in talks with Tsipras, they had agreed to ask for a meeting with European Commission President Jean-Claude Juncker in October, in order to present their common ideas and proposals for the further development of the Balkan region.
The agreement for the new rail link was signed at the historic Imaret Hotel in the old town of Kavala and the event was attended by many local officials from Eastern Macedonia and Thrace, headed by the region's prefect Christos Metios, mayors of the region, vice-governors and many representatives of industrial, trade and professional associations.
Tsipras: Common thread linking Macron, Borisov visits is our determination for investments
The common thread linking visits by France's President Emmanuel Macron and Bulgaria's Prime Minister Boyko Borisov to Greece was the government's determination to rapidly proceed with infrastructure projects and investments, Prime Minister said on Wednesday.
Tsipras underlined that the government would employ both public and private investments for a faster return to growth.
"Both international meetings have a thread that links them. They are two events in continuity. And the common denominator is our determination to proceed with infrastructure projects, investments both private and public, to proceed at a faster pace to the growth that will grant our people prosperity, creating jobs and a different overall prospect for the region. We must not forget that we are in a time when a discussion has begun about the future of Europe and the new architecture of Europe. We are taking an active part in this discussion, not as observers or followers but helping set the agenda and putting in our own two cents for the benefit of our people", he said./IBNA