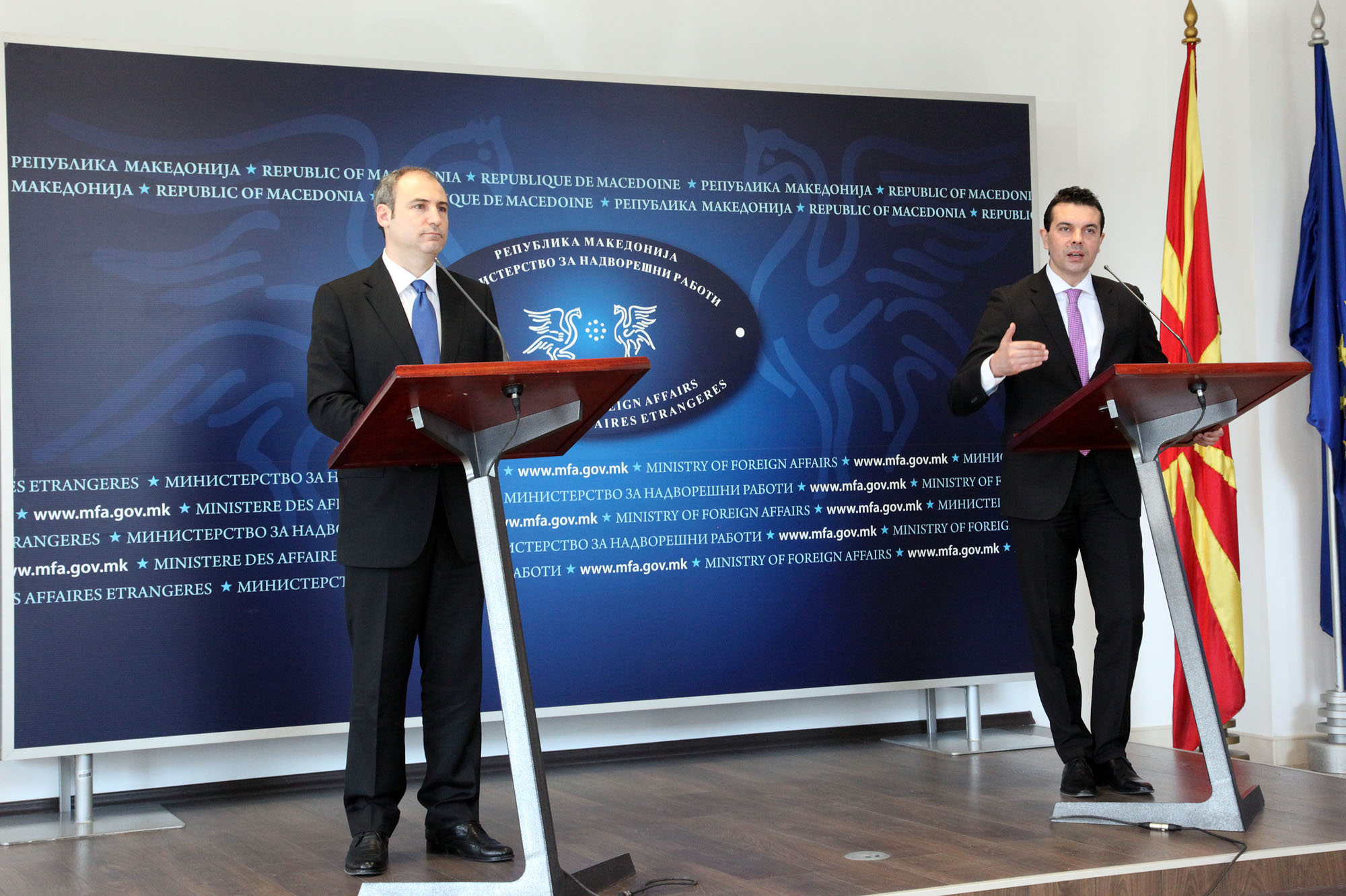 Skopje, April 30, 2013
FYROM and Albania have good bilateral relations. Both countries share the same perspectives for the accession in the EU, while the border crossing through the use of identity cards is a benefit which all countries of the region should have. This was stressed today in the meeting between the Albanian Minister of Foreign Affairs, Aldo Bumçi and his FYROM counterpart, Nikola Poposki in the joint press conference in Skopje.
Asked as to why even after 20 years from the establishment of diplomatic relations, Tirana hasn't yet accepted Macedonia under its constitutional name, minister Bumçi said that  the constitutional name is used during bilateral relations.
"Bilateral relations are an example of good neighboring relations. In our bilateral relations, we have accepted Macedonia under its constitutional name and here, I used the name Republic of Macedonia. As far as the issue of name is concerned, it's a bilateral issue. We will respect the will of Macedonia and Greece, and we will also respect the agreement that they will reach", said Bumçi.
As far as what the Albanian state does in relation to the pressures exerted toward the population of FYROM in Albania by the Red and Black Alliance is concerned, Bumçi said that the relations with the Macedonian minority are excellent and that the proof for this is the decision of the Albanian Parliament to return the name of Pustec.
According to Bumçi, in the past 20 years, Albania has shown consistency in relation to FYROM in respecting its sovereignty and territorial integrity.
"In the west, FYROM has a friendly country which offers strong support for its accession in the NATO and the EU. We have given the same advice to the Albanians of Macedonia, to be part of the democratic process and the Euro integrating process of Macedonia. We're happy that they are an important factor for the stability and prosperity of Macedonia", said the Albanian minister.
Both ministers have also focused on the economic cooperation. According to Bumçi, in 2006, commercial exchanges between Macedonia and Albania amounted to 50 million Euros, while today, this figure has amounted to 93 million Euros. As far as infrastructure was concerned, 8th Corridor was pronounced.