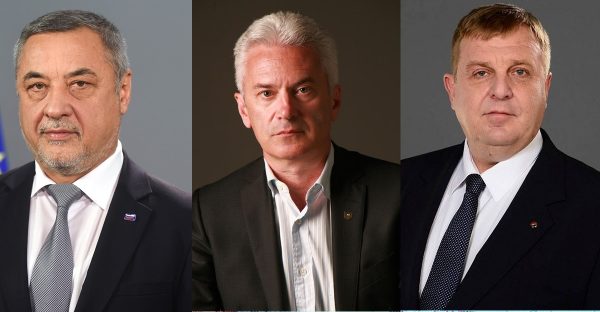 The three co-leaders of the United Patriots, the grouping of far-right and ultra-nationalist parties that is the minority partner in Bulgarian Prime Minister Boiko Borissov's coalition government, are scheduled to meet on November 20 to discuss their next steps after co-leader Valeri Simeonov's resignation as deputy prime minister.
Hardly for the first time in 2018, the days immediately before and after the announcement on the night of November 16 that he was resigning have exposed the fissions in the grouping.
By Simeonov's account, he informed his minority coalition partners of his step – taken a month after outrage over his offensive comments about protesting mothers of children with disabilities – though another of the co-leaders, Ataka's Volen Siderov, said that he had no advance knowledge that Simeonov was to resign.
The third of the co-leaders, Krassimir Karakachanov, said that Simeonov had told him on Friday afternoon that he was resigning, and together the two went to see Borissov. Asked about Siderov, Karakachanov said that it had been up to Simeonov to decide who to call.
Siderov, whose relations with Simeonov have been publicly fraught for months, described his resignation as "belated". The Ataka leader said that the move had not been agreed with him.
While Karakachanov said after Simeonov's resignation that it would be up to the former deputy prime minister to nominate a successor, probably from Simeonov's National Front for the Salvation of Bulgaria (NFSB) party, Siderov questioned whether the United Patriots should nominate a new deputy prime minister at all.
The third Borissov government, formed in May 2017, had four deputy PMs – two from Borissov's GERB party and two from the United Patriots. Siderov indicated that the Bulgarian government could get along fine from now on with three.
Siderov then changed his tune, to say that he thought that Karakachanov should resign from his deputy prime minister's post too. His thinking appeared to be that this would represent some sort of fresh start for the United Patriots.
On Sunday, Karakachanov said that he had spent all night considering this option. He issued a reminder that the future would be discussed on Tuesday at the meeting of the United Patriots coalition council.
Siderov's suggestion got a stronger reaction from MEP Angel Dzhambazki, a nationalist hardliner from Karakachanov's VMRO, who said that Siderov was opening the way for the Movement for Rights and Freedoms to return to power. The MRF historically had an electorate largely from Bulgaria's ethnic Turkish minority, has key business connections, and ostensibly at least, is a liberal party.
Significantly, Simeonov, while leaving the government, did not withdraw his NFSB's participation in and support for the Borissov ruling majority. Theoretically, Borissov's government should be able to continue staving off any challenge in Parliament, having already seen three motions of no confidence in it defeated.
The question for now is the future of the United Patriots, and whether the Tuesday meeting will go ahead. On at least one previous occasion, a coalition council meeting was held, but Siderov did not show up./IBNA