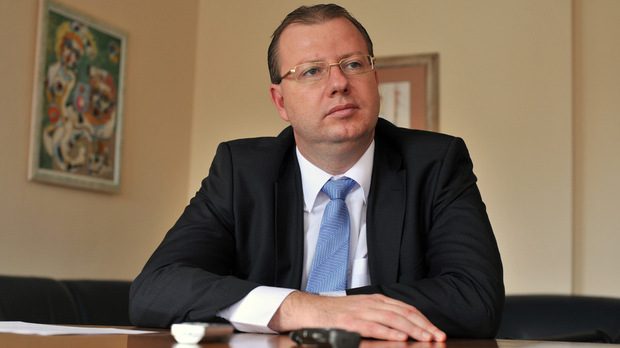 By Clive Leviev – Sawyer
Bulgaria's National Revenue Agency is watching the "Offshoreleaks" revelations and will be ready to check the information about Bulgarian companies and individuals with offshore accounts when the data is released.
This is according to Krassimir Stefanov(photo), head of the National Revenue Agency, currently on leave because he is standing as a candidate in the May 12 ahead-of-term national parliamentary elections on the list of centre-right former ruling party GERB.
The "Offshoreleaks" reports are the result of work by dozens of journalists in several countries in a project by the International Consortium of Investigative Journalists (ICIJ). "A cache of 2.5 million files has cracked open the secrets of more than 120 000 offshore companies and trusts, exposing hidden dealings of politicians, con men and the mega-rich the world over," the ICIJ site said.
Stefanov, speaking in an interview with mass-circulation newspaper 24 Chassa, said that through the European Savings Directive, Bulgaria already received information about deposits held by Bulgarian elsewhere in the EU. The country also now has a convention on the avoidance of double taxation with Switzerland, which includes a provision that enables Bulgaria, in the event of that it is carrying out a tax inspection or audit on a Bulgarian citizen, to ask Swiss tax authorities for information on bank balances held by Bulgarians.
Earlier, it emerged that the first details about Bulgarians to be revealed would be in regard to those holding accounts in the British Virgin Islands. From 1989 to date, companies registered in the British Virgin Islands have invested 721.5 million euro in Bulgaria, according to central Bulgarian National Bank figures. This represents two per cent of foreign direct investment in that period. There are reportedly 382 Bulgarian companies registered in the British Virgin Islands.
In all, of the sum total of foreign direct investment in Bulgaria to the end of 2011, 13 per cent or 4.6 billion euro came from offshore companies.
The biggest involvement has been with Cyprus, with companies registered offshore on the Mediterranean island investing 2.317 billion leva.