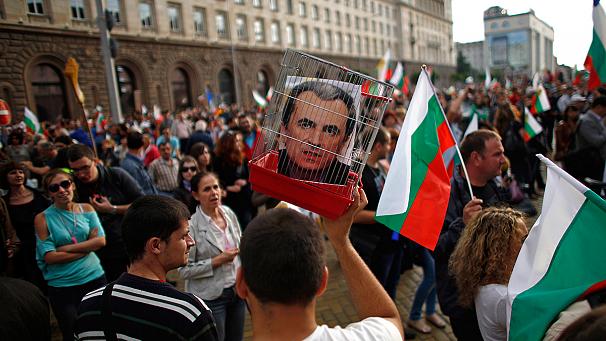 By Clive Leviev – Sawyer of The Sofia Globe
The 50th consecutive day of anti-government protests in Bulgaria coincided with the final sitting of Parliament before its summer recess of more than a month, with all signs pointing to further political drama in the autumn.
Not that either side will be relaxing their guard in the peak holiday season of August. The government has promised to return to Parliament in September with an expanded version of its plan for the governance of the country, while anti-government protesters are using creative forms of protest to express their determination that the government should step down immediately.
In the wake of the single episode involving violence in all the 50 days of anti-government protest so far, when police clashed with protesters who obstructed a busload of MPs that had – for reasons that remain unclear – being driven into their midst, the atmosphere remains politically tense.
The government seeks to paint the protesters as hooligans, paid agitators and a vocal minority of well-off residents of Sofia who are marionettes in the attempt by Boiko Borissov's centre-right GERB party to return to power, this having been frustrated by the results of the May elections which handed the largest share of votes to GERB but also put three other parties in Parliament implacably opposed to a new term for Borissov as head of government.
The government, held in place by the Bulgarian Socialist Party and Movement for Rights and Freedoms, has lurched from one blunder to another, adding – in the eyes of anti-government protesters – further discredit to an administration whose policies are likely only to worsen the country's economic plight and the grip of the "energy mafia" and other oligarchs.
The anti-government protesters have succeeded in making the work of the parties in power in Parliament difficult, with one sitting in recent days being cut short as presiding officers led MPs in a near-hysterical escape from gathering protesters, whom they portrayed – though no proof was offered – as including "extremists" in their ranks, hell-bent on an invasion of the National Assembly.
Daily, MPs have been jeered by anti-government protesters morning and evening. A Bulgarian Socialist Party MP, Maya Manolova, who sought Quixotically to talk to protesters, was ridiculed.
Anti-government protesters see no point in dialogue with representatives of a government and parliament required to do only one thing, make way for a new, deeper democracy with genuine citizens' participation.
Similarly, a challenge by a group of four anti-government protesters – who underlined that they did not claim to represent the whole – to four figures in power to a televised public debate, ended in failure when Plamen Oresharski, appointed in May to sit in the prime minister's chair, was prepared only to meet the four protesters for talks behind closed doors.
President Rossen Plevneliev, who came to office in early 2012 on a GERB ticket but since then has sought to steer a carefully non-partisan course, has bemoaned the sheer gap preventing dialogue.
With MPs dispersing to their constituencies, unconfirmed media reports emerged on July 31 that each of Bulgaria's 240 members of the National Assembly was to be assigned a police officer, uniformed or plainclothes, to provide close personal protection.
This is a measure of the emotions, or perhaps also a move by the government to daub the anti-government protesters as potentially dangerous.
Another measure is various polls. Against a background that most individual polling agencies have a track record of tending to produce results that show a certain bent in favour of one party or another, several polls have shown either majority support for the anti-government protests or the nation being almost evenly divided on the question.
A key point of debate, as the hot days of August enfolded the country, was about whether elections should be held immediately, or only in May when Bulgaria elects members of the European Parliament, or – of course, among the ranks of the little band of pro-government protesters – whether there should elections at all. This latter group, which daily has raised only a fraction of the turnout by the anti-government protests, daily has called for "giving a chance" to the government.
There also have been mixed signals from Borissov himself, who variously has called for immediate elections but also, just in the past day, said that these could be held in May.
With determination on both sides as anti- and pro-government forces dig in, the question is how much is either side achieving. The government, in theory, has the numbers in Parliament to stick it out for a full term, however politically unrealistic that may be, and however much it may damage the image of the country. The anti-government protesters have had to face the prospect of having to keep up the momentum well into the autumn and perhaps even the winter.
The drama has thrown off, to an extent, some of the government's plans for a "business as usual" approach in seeking to implement its plans. Not only has it achieved, in reality, no genuine long-term or even medium-term reforms regarding electricity prices, it has not even got through its populist promise of rolling back Bulgaria's ban on smoking in enclosed public spaces, the latter an issue seemingly overwhelmed on the greater and more turbulent political stage.
Should the government determinedly hold out, continuing to claim that it has majority support in the country and that it is a result of a legitimate election victory, even this stasis would have its own effect on Bulgaria. The protesters have been underlining that they do not want to leave the country, but it is this government that should (some wits have suggested that it should also quit Earth for its home planet). At least one commentator in the media has suggested that failure by the anti-government protesters would be a stimulus to emigration, aggravating the "brain drain" from Bulgaria as educated and talented young people quit the country, disheartened by a government they see as bereft of a positive vision for Bulgaria, lacking anything but the opposite of a will for economic reforms, and lacking a moral claim to govern.