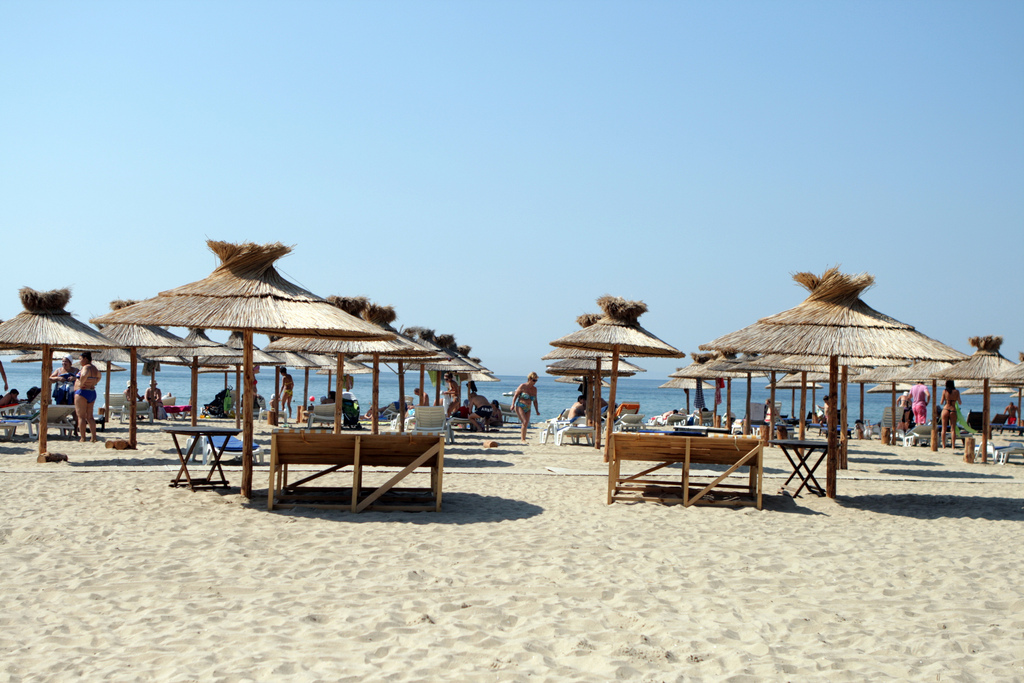 Sofia, June 1, 2015/ Independent Balkan News Agency
By Clive Leviev-Sawyer of The Sofia Globe
Bulgaria's Black Sea tourism season 2015 officially opened on June 1.
At the central beach in Bourgas, the city on the southern part of the coast, there will be 250 umbrellas and 150 sunbeds free-of-charge and five rescue posts in operation.
Further north, at Bulgaria's largest Black Sea city Varna, hiring a sunbed and umbrella at the central beach costs five leva, unchanged from last season, and three leva at Asparouhovo beach.
According to Bulgarian National Television (BNT), forecasts for this season is that there will be 15 per cent more Israeli tourists, while numbers of Russian and Ukrainian tourists will be lower.
In summer 2014, about 250 000 Ukrainian tourists visited Bulgaria's Black Sea resorts, which was a drop of about eight per cent compared with previous summers.
Reports quoting Ukrainian honorary consuls in Bulgaria said that this year, numbers will be even lower, perhaps 80 000 Ukrainians.
This is a consequence of the situation in Crimea, illegally annexed by Russia, a depreciation in the Ukrainian currency, and that Ukrainians going on holiday were opting for markets where prices had been lowered, including Turkey, Egypt, Tunisia and Greece, reports said.
BNT said that "hoteliers do not hide that if they manage to maintain the occupancy levels of last summer, they will consider it a success".
With expectations for a slow season this year, domestic tourism could at least partially compensate for the loss of business.
At the same time, Bulgaria's tourism industry continues to face a customary problem – a lack of qualified staff for the season.
Bulgarian Tourism Minister Nikolina Angelkova, in a television interview a day ahead of the official opening of the 2015 summer tourism season, said that the exhibition of ancient artefacts found in Bulgaria that opened recently at the Louvre in Paris was expected to stimulate growth in the number of French tourists coming to the country by five per cent.
She described the exhibition of Thracian treasures at the Louvre as a great achievement, and said that now a number of museums elsewhere in the world also wanted to exhibit them.
"Bulgaria is presented in a very positive way to the world and we need to build our image on the basis of such examples," Angelkova said.
Bulgaria's Tourism Ministry recently was left red-faced by the distribution at an event of a brochure intended to promote hunting and fishing tourism in Bulgaria, which depicted species not present in Bulgaria and also showed Grizzly bears – which not only are American, but also hunting bears in Bulgaria carries a prison sentence.
Angelkova, who previously said that the brochure was several years old and had been distributed by mistake from where copies had been stored, said that ministry employees responsible for the distribution already had been punished.
"This is a sign of how very careful we should be about what we do to build our country's image," she said.
The ministry currently was working on new promotional materials in eight main focus cultural and historical routes, because this is how Bulgaria should be identified.
"Everyone says that our country has great potential and this is an absolute fact. Only our country can boast of absolutely all the possibilities for all kinds of tourism. The question is how we present ourselves both to ourselves and to the world that we can attract attention, not through scandals, but in a positive way," Angelkova said.
(Photo: dlakme/flickr.com)