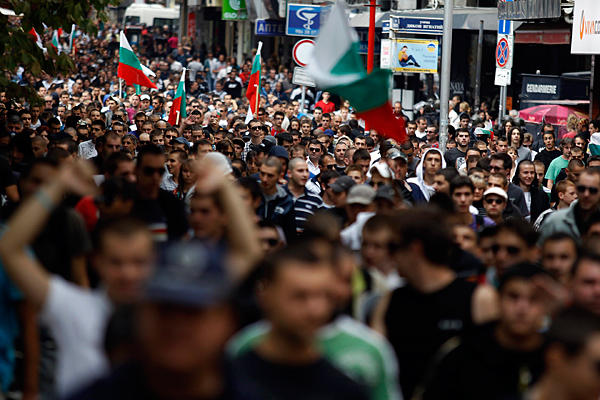 By Clive Leviev – Sawyer of The Sofia Globe
In the latest sitting of Bulgaria's half-empty Parliament, the parties supporting the government voted to defer resolution of the issue that brought down the previous government, extending the period for deciding electricity prices by a month to the end of July.
Electricity prices were the issue around which the protests of early 2013 were mobilised. When there was a violent incident in Sofia, the then government of Boiko Borissov stepped down, opening the way for early elections. In those elections in May, Borissov's party got the largest single share of votes but could not form a government.
Instead, the second-ranked Bulgarian Socialist Party came to power with the backing of the Movement for Rights and Freedoms and the tacit support of ultra-nationalists Ataka.
This current government has been the target of widespread protests over its decisions, and the blundering and increasingly discredited administration spent its first weeks focusing on eradicating Borissov's legacy rather than addressing issues such as the economy – and energy prices.
In spite of the current protests, now into their 15th day and which have expanded to morning protests outside Parliament, the government – in which Plamen Oresharski has been placed in the prime minister's chair – is refusing to step down, holding to its self-proclaimed insistence that it is an "expert" government with a plan for emergency steps to resolve the economic crisis.
In Bulgaria, electricity and heating prices are set twice a year by a statutorily independent regulatory commission, though practice is for politicians to offer successions of forecasts of how prices will change.
Electricity prices should have been adjusted as of July 1, but on June 28, BSP and MRF MPs voted to delay this by a month.
Independent energy sector analysts and sector players frequently have said that market conditions should dictate that electricity prices should go up, putting Bulgaria's authorities in the position of possibly intervening to artificially hold down prices, in an attempted sop to meeting the previous grievances and as a means for the government to continue to cling to power and hold off demands from protesters, NGOs and two major private sector business associations for it to resign to make way for early elections.