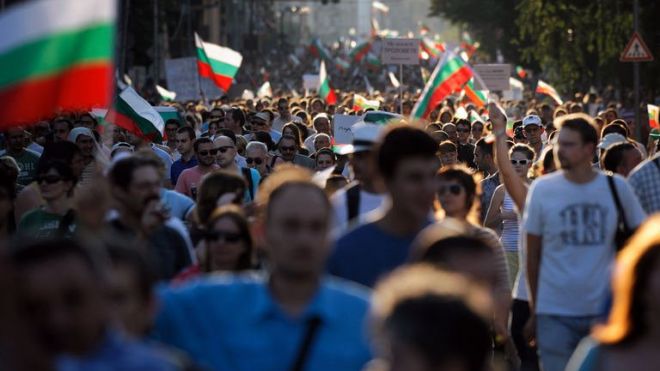 Clive Leviev-Sawyer of The Sofia Globe
Bulgarian vegetable producers are continuing their protest campaign against cheap imported vegetables from neighbouring countries Romania, Macedonia, Turkey and Greece even as the government has launched special squads to conduct checkups for unlawful imports.
On July 4, vegetable producers in northern Bulgaria threatened to blockade the recently-opened Danube Bridge 2 to produce against the "scandalous" import of vegetables from Bulgaria's northern neighbour Romania.
"We organised a protest of the vegetable producers and fruit-growers in the district of Vidin because after the opening of Danube Bridge 2 our sales were over," Milena Dimitrova, a producer from the village of Gomotartsi, was quoted by local news agency Focus as saying.
Dimitrova said that the price of tomatoes at this time of the year had never been lower. She said that production was late because of the bad weather but the producers still expected to sell their products at their real price.
"However, this did not happen. Our tomatoes are becoming unsellable because of the scandalous import of Romanian fruits and vegetables through Danube Bridge 2. They are sold at a dirt cheap price by guest traders without registration, insurances and permits, without fees and taxes," Dimitrova said.
The protesters have sent letters to nine Bulgarian institutions, as well as to the minister of agriculture and food. They warned that if no measures were taken within one-week deadline, they would organise a protest and block Danube Bridge 2.
On July 3, the Finance Ministry said in a media statement that agricultural produce imported from Greece, Turkey, Macedonia and other neighbouring counties was being subjected to 24-hour control at Bulgaria's border checkpoints.
All means of transport carrying fruits and vegetables from these countries were subjected to custom and tax checks. The inspectors also checked the documents for the produce's origin, invoices and other accounting papers.
In an article in Bulgarian mass-circulation daily Trud, Nikolai Vulkanov, a researcher at private think-tank the Institute of Market Economics, said that control was needed in order to stop the unregulated import of vegetables into Bulgaria.
"This, however, requires a purpose-oriented state policy for coping with contraband, whose detrimental effect extends far beyond farming. Several spot checks at the border will have only a temporary effect. The problem is rather political because it is a public secret that people close to all governments so far have been benefiting from unregulated import."
Earlier this week, Bulgarian agricultural producers in Sandanski and Plovdiv protested against loss of market opportunities and low purchase prices because of competition from cut-price imports. The protesters dumped fruits and vegetables on the road.
The inspections ordered by the Bulgarian government included checks at vegetable markets in Sofia's Slatina and Drouzhba neighbourhoods. Customs, tax officials, police and Food Safety Agency inspectors took part in the checks.
Bulgarian law provides that goods found lacking documents certifying origin and quality mean that the person in possession of them could face a fine of a maximum 3000 leva, about 1500 euro.
Bulgarian Agricultural Minister Dimitar Grekov said that the checks would continue in August and September.
Grekov has proposed setting up mobile units to conduct inspections.