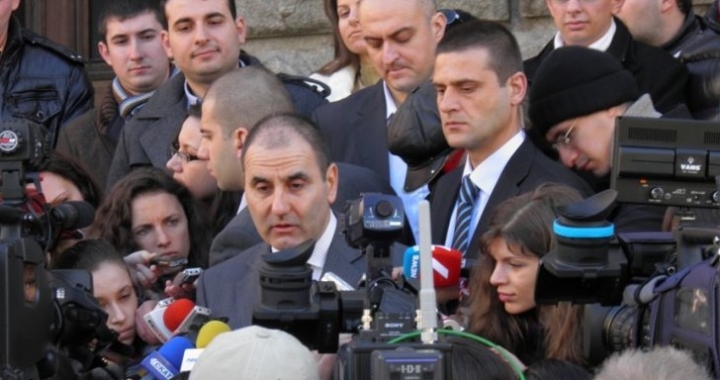 By Clive Leviev-Sawyer of The Sofia Globe
If a new poll ahead of Bulgaria's May 12 parliamentary elections is to be believed, about 70 per cent of Bulgarians care either little or nothing about the eavesdropping controversy that has predominated election campaigns for days.
The eavesdropping controversy started with an allegation by the socialists that former ruling party GERB conducted widespread illegal wiretapping of state and political leaders as well as business people.
An initial investigation by prosecutors led to recommendations for reforms, but found only "prerequisites" for illegal eavesdropping, in turn leading to prosecution for three officials for dereliction of duty and one for allegedly obstructing the investigation.
The controversy deepened when a former cabinet minister, Miroslav Naidenov, alleged that the former interior minister, Tsvetan Tsvetanov, had been behind eavesdropping on all members of the cabinet, including then-prime minister Boiko Borissov.
Borissov took the side of Tsvetanov, who denies wrongdoing, and Naidenov – who faces investigation for alleged corruption in office, which he denies – was expelled from Borissov's party.
Matters then deepened further when recordings emerged of Borissov, Naidenov and Sofia City Prosecutor Nikolai Kokinov discussing various issues, including the investigation into Naidenov, along with Kokinov speaking about the results of the prosecutors' probe before it was officially released. Kokinov's resignation as Sofia City Prosecutor was accepted but his resignation as a prosecutor was not, because he now faces an official investigation by the judiciary's governing body.
These are most of the episodes in the melodrama that has dominated headlines and mudslinging on the campaign trail for days.
It led Bulgarian Rossen Plevneliev, in an interview on national radio, to plead with Bulgaria's politicians "enough already" and to ask them to remember that what Bulgarians deserved was constructive proposals to address the issues raised in the national protests that precipitated the political crisis in the first place.
On April 30, caretaker Prime Minister Marin Raykov told a news conference: "My government has committed itself fair, transparent and democratic elections. We cannot do so on our own, without the help of the political parties," said Raykov, in office since March 2013 after the resignation of the Borissov government, and whose administration will have stewardship of the country pending the formation of an elected government.
Raykov said that his government was creating the conditions for fair elections, but he asked how these could be fair when political parties were offering only scandals.
Recalling the nationwide protests towards the end of winter, he said that after his government promised to return calm to society, "people left the streets, but they did not forgive and forget. They just gave a chance to the politicians".
Now, political parties, instead of offering proposals to get out of the crisis, were generating scandals. "I personally do not consider this approach to be constructive," he said.
Raykov underlined that the investigation into alleged illegal eavesdropping was continuing in an objective way.
He said that the Interior Ministry had, as he had asked, proposed specific changes to the regulations and procedures governing the use of eavesdropping.
Caretaker Interior Minister Petya Purvanova appealed for "public figures" to stop commenting about the eavesdropping, saying that criminal proceedings were underway and lawfully only prosecutors had the right to comment.
Two polls by Bulgarian opinion survey agencies, the National Centre for the Study of Public Opinion and MBMD, found that people were being discouraged from voting by the continuing diet of scandal. MBMD established that 70 per cent were not following or had little or no interest in the eavesdropping scandal.
In a comment on April 29, one Bulgarian newspaper said that Bulgaria's voters might not know what the next government would do, whichever party one, but were becoming experts on eavesdropping techniques.
(Photo of Tsvetanov: gerb.bg)