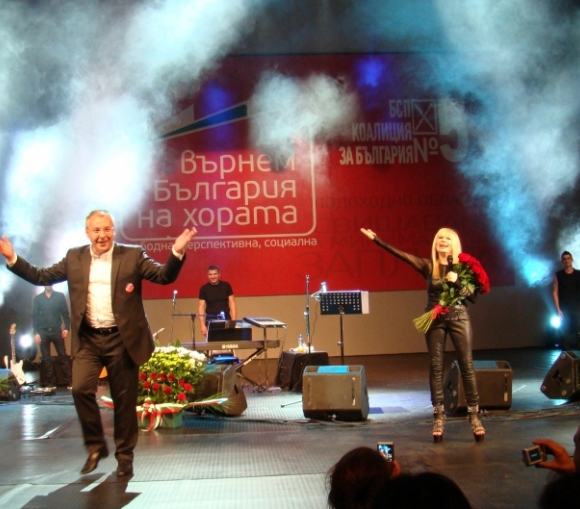 By Clive Leviev-Sawyer of The Sofia Globe
Bulgaria's political parties were holding close-of-campaign events on May 10, two days ahead of the country's national parliamentary elections.
Boiko Borissov's centre-right GERB party, seen by several polls as effectively tied in its race against its Bulgarian Socialist Party (BSP) rivals, sought to introduce a European element by hosting in Sofia a meeting of the youth wing of the European People's Party.
At the event, at a five-star hotel in the Bulgarian capital, featuring 250 delegates from centre-right parties from 39 European countries, EPP president Wilfried Martens was scheduled to endorse Borissov's bid to return to power.
Both Borissov and BSP leader Sergei Stanishev made lengthy breakfast television appearances on May 10, on different commercial television stations.
In Borissov's appearance, on BTV, much of the questioning was about the controversy about alleged illegal eavesdropping, the issue that has dominated the campaign and which some pollsters see as having caused some damage to GERB's chances.
At TV7, Stanishev had the studio to himself, after Borissov and former European Commissioner Meglena Kouneva, the latter the leader of the Bulgaria for Citizens party, both declined to appear. GERB announced a boycott of TV7 over increasing tensions with station boss Nikolai Barekov, previously widely seen as pro-Borissov. In an incident earlier in the week, a GERB representative threw a cup at Barekov after the crowd at a live television "debate" threw eggs at the GERB candidate, Dobroslav Dimitrov.
Stanishev took issue with one of GERB's major selling points, the Borissov administration's achievements in building motorways. Stanishev, who was prime minister at the head of a three-party coalition from 2005 to 2009, said that while GERB had built 112km of motorways between 2009 and 2013, his government had built 133km.
The BSP leader said that recent opinion polls showing declining support for GERB proved that people had realised that Borissov's party had been lying in claiming that life in Bulgaria had improved during the GERB administration.
The third-most significant party in the elections, the Movement for Rights and Freedoms – a party led and supported in the main by Bulgarians of ethnic Turkish origin – was holding its event in the party stronghold of Kurdjali, a town not far from the Turkish border. Leader Lyutvi Mestan was due to speak at a public event outside a local restaurant, a press notice said.
While GERB is seen by all polls as having a slight lead over the BSP, it is an open question whether Borissov will be able to form a workable coalition after the elections. Should he fail, the mandate to form a government would go to the second-largest party, the BSP. Earlier this week, MRF leader Mestan said that it was important to have a coalition that would keep GERB out of power, a firmer position than the MRF leader's statement a few weeks ago not ruling out a coalition with GERB.
Voting in Bulgaria's parliamentary elections closes at 8pm on May 12. Provisional estimates of results based on exit polls, with seven parties accredited to the election process, are expected within a few hours after voting ends.
(Photo: BSP leader Stanishev at a campaign concert with veteran Bulgarian pop star Lili Ivanova: bsp.bg)