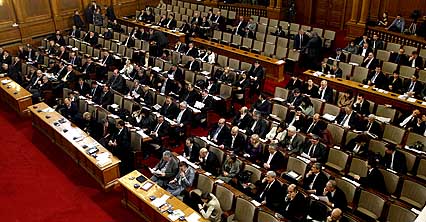 Bulgaria's National Assembly approved on July 4 the second reading of amendments to the 2019 Budget Act that cut the state subsidies for political parties and coalitions that got more than one per cent of the vote at the most recent election from 11 leva (about 5.5 euro) to one lev.
This was the latest development in a saga that earlier saw a postponement of the second-reading vote to allow for consultations among the parties.
The amendments will affect the third and fourth tranches of the state subsidies in the remainder of 2019. The law that the amount of the subsidy will be decided in the annual national Budget remains unchanged.
The question of whether businesses and private individuals will be allowed to fund political parties remains open, and is likely to be addressed only when amendments to Bulgaria's Political Parties Act are debated in the autumn.
The issue of state subsidies came to the forefront several weeks ago when it emerged that state subsidies for political parties and coalitions had been overpaid to the tune of many millions of leva.
Prime Minister Boiko Borissov's centre-right GERB party has returned the more than five million leva it was paid in excess, as has the Movement for Rights and Freedoms, which was overpaid more than 1.6 million leva and the Vuzrazhdane party, which was overpaid 170 681 leva.
The remaining parties together owe the state coffers more than seven million leva. The deadline to return the money is December 31 2020.
The amendments to the Budget Act were opposed by the Bulgarian Socialist Party, which said that no consultations on the matter had been held and the changes had not been publicly debated. GERB rejected this claim.
BSP leader Kornelia Ninova said that Parliament was voting to approve amendments that were in fact rejected by all parties in the National Assembly.
Within the ruling majority – the coalition between GERB and the far-right United Patriots – two parties from the latter formation voted against the amendments: Valeri Simeonov's National Front for the Salvation of Bulgaria and Deputy Prime Minister Krassimir Karakachanov's VMRO. The third of the United Patriots' parties, Volen Siderov's Ataka, voted in favour.
The MRF wants state subidies for political parties scrapped and the legalisation of financing for political parties by individuals and juristic persons./ibna