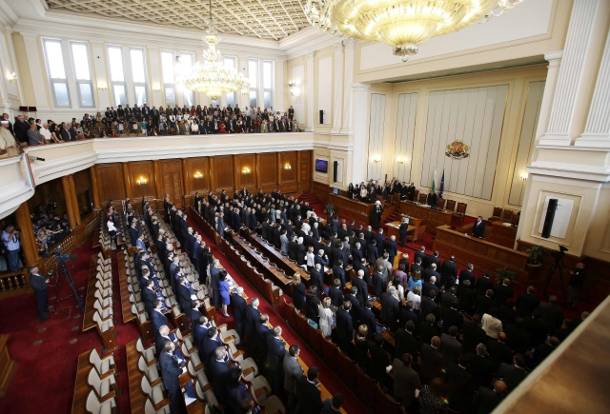 By Clive Leviev – Sawyer of The Sofia Globe
Bulgaria's Parliament will hold a debate on the crisis on Syria, it emerged a day after head of state President Rossen Plevneliev called for the legislature to hold a debate a reach a "responsible" position.
Against a background of expectations that the United States will lead some form of military intervention against the Assad regime in response to the August 21 chemical weapons attack that left hundreds of Syrian civilians dead, allegedly at the hands of the Damascus government, Bulgaria has not endorsed any such action and has been calling for a political solution.
Bulgaria has said that it has not been asked to assist in any such action and would state its position should this happen. A special meeting on August 30 of the security council at the Cabinet office resulted only in an 11-point "plan" to deal with any possible wave of refugees.
Critics of the government have labelled its response to the Syria crisis as highly inadequate. Former foreign minister Nikolai Mladenov said that Bulgaria had no position at all and former prime minister and current parliamentary opposition leader Boiko Borissov said that the Syria crisis had exposed foreign minister Kristian Vigenin as "very weak".
On August 31, President Plevneliev said that the Bulgarian Parliament should hold a debate on the Syria crisis and reach a responsible position.
Plevneliev, in office since January 2012 after election on the ticket of former centre-right ruling party GERB, said that the use of chemical weapons against civilians was unacceptable, that the culprits should be identified and just punishment should ensue.
On September 1, socialist Speaker of Parliament Mihail Mikov said that the situation in Syria would be discussed after Parliament resumes on September 4. He said that this was quite natural because the National Assembly set its agenda according to events in domestic and foreign policy.
Local media quoted BSP sources as saying that the party wanted to await UN resolutions on the basis of the work of the UN chemical weapons inspection team.
Borissov's GERB party has called for Plamen Oresharski, occupant of the prime minister's chair in the BSP government, to address Parliament on the Syria issue while ultra-nationalists Ataka – traditionally pro-Russian and against a background of Moscow's backing for Assad – have tabled in Parliament a draft declaration of neutrality in the event of armed conflict in Syria.
Bulgaria's current government has been in power since May 2013 and has come nowhere near to matching the record of its centre-right predecessor on Middle East and North Africa issues, notably Syria, even though the current government insists that it holds to Sofia's previous recognition of the Syrian opposition as legitimate representatives of the Syrian people and condemns the actions of the Assad regime.
In notable contrast to its 2009/13 predecessor, the current BSP government also shows every sign of a much closer alignment to Moscow, while insisting that it is fully committed to Nato and the EU.
But, speaking on August 30 to public broadcaster Bulgarian National Television, Mladenov – foreign minister from January 2010 to March 2013 – said that there was currently no Bulgarian position on Syria.
He said that all he heard from the Foreign Ministry was clichés that offered no content about what Bulgaria would do in the event of a conflict.