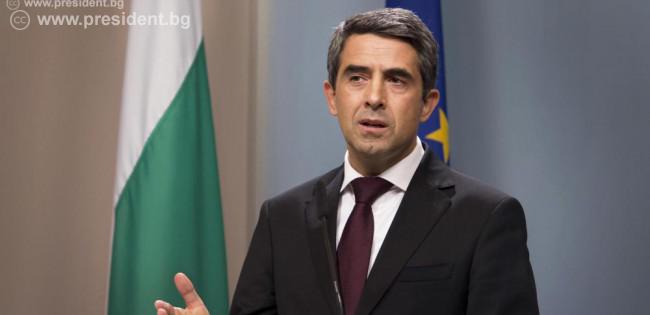 By Clive Leviev-Sawyer of The Sofia Globe
The special statement by Bulgarian President Rossen Plevneliev effectively calling for early parliamentary elections has given a new focus to the country's pro-government protesters – albeit off somewhat of a low base.
Anti-government protests have been proceeding for more than three weeks, with turnout in recent days estimated to vary from 30 000 in the middle of last week to 3000 at the weekend. The pro-government protests tend to peak at about 100 people while an expedition to the Presidency to call for the resignation of Plevneliev drew about 30 people.
On July 5, Plevneliev made a special live broadcast to the nation, commenting on the weeks of protests and the disconnect between the protesters and the politicians, expressing disapproval of the fact that those in power were ignoring the tens of thousands who were turning out to demand their resignation.
On more than one occasion, the head of state has praised the peaceful and creative conduct of the anti-government protests.
The pro-government protests began 13 days ago, to demand that the Bulgarian Socialist Party government that took office in May be "given a chance" and rejecting calls for early elections.
Most of those participating in the pro-government protest are senior citizens, a core constituency for the socialists. Unlike the anti-government demonstrations, which have established a routine of long processions around symbolic points in Sofia, the pro-government protests tend to stick to one place, outside the National Palace of Culture, NDK.
Going by local media reports on July 5, there was some division in the ranks of the pro-government protests about whether to demand the resignation and/or impeachment of Plevneliev.
"Now is not the time for confrontation," one elderly pro-government protester told television cameras.
However, a petition has begun for the impeachment of Plevneliev on the basis of the allegation that he has shown partisan political bias by his statement.
This petition is to be forwarded to the National Assembly. Some of the protesters say that presidential elections could be held in May 2014 when Bulgaria votes in European Parliament elections – an alternative take to some who have demanded the resignation of the BSP government and want parliamentary elections, not presidential elections, held in May 2014.
There is an existing petition, expressing support for the BSP government, which its backers say has collected 18 000 signatures and which will be presented to the National Assembly and Cabinet on July 15.
So far, the anti- and pro-government protesters have been existing in separate but parallel realities. The only minor incident happened this past weekend, when about 30 protesters gathered outside the Presidency – across the road in Sofia from the Cabinet office, which routinely is the target of anti-government chants demanding the government's resignation – to shout for the resignation of Plevneliev. When parts of the two groups coincided, a few angry words were exchanged.