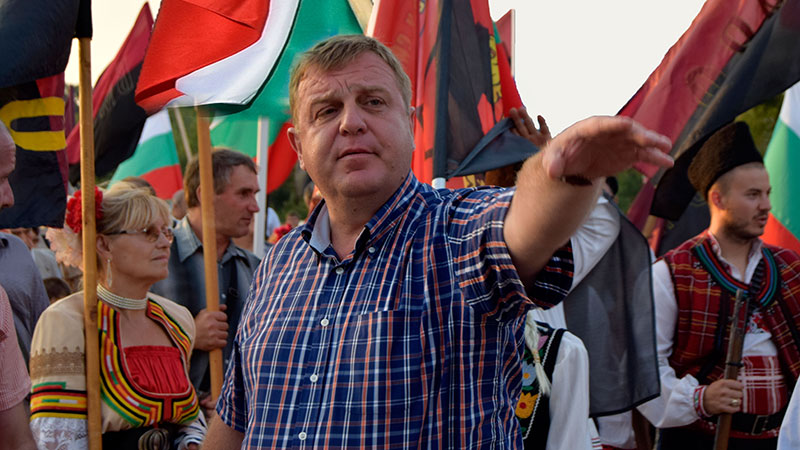 Krassimir Karakachanov, co-leader of Bulgaria's nationalist United Patriots and now Deputy Prime Minister in charge of internal security and Defence Minister, has reiterated that he wants to see the country bring back conscription.
Karakachanov, who took office on May 4 as part of centre-right GERB party leader Boiko Borissov's coalition government, in which the United Patriots is a minority partner, admitted that GERB had a "slightly different opinion" on the topic of compulsory military service.
The governance programme agreed between GERB and the United Patriots speaks about encouraging voluntary military service, but Karakachanov said that he would press for exploring the option of bringing back conscription.
Karakachanov said that many European countries had begun to talk about conscription and the topic was becoming more relevant.
He was also keen that the public should understand that Bulgaria's military needs more money.
"I know that society expects more funds for education, health and other social activities, but I am deeply convinced they will understand that at this time, it is necessary for Bulgaria to have an army that can peace, order, the lives and health of Bulgarian citizens, and the integrity and sovereignty of the Bulgarian state," said Karakachanov, who long since has been disclosed as having "Agent Ivan" with Bulgaria's communist-era secret service State Security.
In Bulgaria's previous parliament, the Patriotic Front – of which Karakachanov's VMRO party was a part and which now is part of the United Patriots – twice tried to legislate the return of conscription, but this was not supported by GERB.
At the time, the Defence Ministry took the view that bringing back conscription would be a complicated business, requiring significant financial and organisational resources and a restructuring of the defence sector.
Bulgaria abolished compulsory military service in 2007. But, as noted in a report by Mediapool, the years before then had seen the system descend into farce, with the military unable to handle the intakes of conscripts, and with a lack of financial resources meaning that the conscripts hardly had equipment or anything to do.
"So the conscripts left the barracks without basic skills, and with the feeling that they had lost a few months of their lives," the report said./IBNA