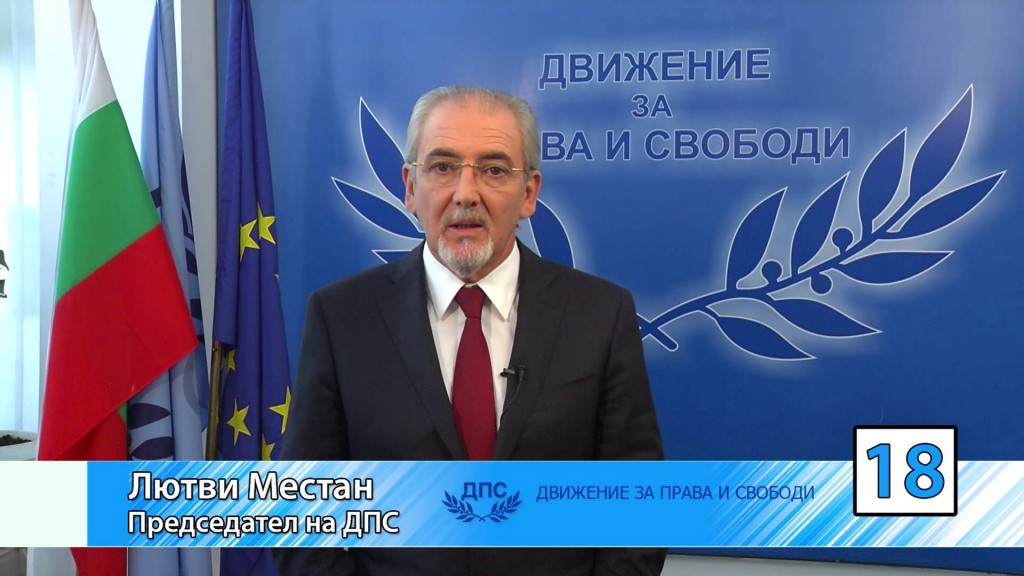 By Clive Leviev – Sawyer of The Sofia Globe
The Movement for Rights and Freedoms (MRF) has called on Bulgaria's government to rethink the idea of removing Turkish-language daily news bulletins from national public broadcasters and putting them instead on some regional stations, saying that such regionalisation is "dangerous".
After the centre-right GERB party returned to power on November 7, with its supporters in Parliament including the nationalist Patriotic Front, GERB confirmed that it was considering heeding demands to remove Turkish-language news from national airwaves.
Such a step has been a signature demand among nationalist parties for years. After the approval of legislation in Parliament, Turkish-language news bulletins began on Bulgarian National Television in October 2000 and currently are shown once daily in the afternoon.
Speaking in the National Assembly on November 12 2014, MRF leader Lyutvi Mestan – whose electorate is mainly Bulgarians of Turkish ethnicity – said that daily news in Turkish was not just a matter of information but also of symbolic value because of the respect it showed for ethnic and religious diversity.
The MRF wanted the idea of shifting the bulletins to regional public broadcasts reconsidered and call for the position taken by President Rossen Plevneliev to be heeded.
Speaking to reporters on November 10, Plevneliev said, "I do not understand what the positive effect of such an act would be, depriving people of something already accomplished.
"I do not believe that when the Turkish-language news is removed, the standard of living will be raised, the country will become more democratic or it will stimulate the economy, create jobs or enable Bulgarians to live better. If someone has the opposite view, let them prove it," Plevneliev said.
"I do not understand why, in the 21st century, the century of internet and communications, we need to impose a ban," he said.
Mestan asked which regions would be targeted: "Perhaps you mean Kurdjali, Razgrad, Shoumen, Siliistra, but this is dangerous, it is not patriotism, but precisely contrary to the national interest, because Bulgaria is a sovereign state, unitary and indivisible".
It was not in the national interest to, through radio and television broadcasts, draw ethnic areas on the map of Bulgaria, Mestan said.
"The philosophy of the process for forceful assimilation of Bulgaria's Turkish minority was the denial and non-recognition of diversity. Therefore when in 1998 the then majority of the United Democratic Forces (UDF) voted the Radio and Television Act which for first time settled the rights of minorities in Bulgaria to receive information in their mother tongue on national television, Bulgaria gave a clear sign for breaking with the negation of ethnic and religious diversity," Mestan said.
Separately, Maria Stoyanova, a member of the Council for Electronic Media – regulator of Bulgaria's broadcasters – said that if the news in Turkish really was such a big problem for the state, it should be discussed in a more calm atmosphere.
She described the current broadcasts, after 4pm for 10 minutes, as "rather useless".
"If their goal is to inform the general public, this is not being achieve. At 4pm there are few people in front of a TV expecting to hear what is happening in Bulgaria."
Stoyanova said that Bulgaria could learn from other countries with minorities, such as Austria, whose public broadcaster showed programmes in minority languages on Sundays. "But really interesting topics, not just news which in our case a translation of the news already broadcast on BNT".
She did not accept the argument that producing the news in Turkish was expensive. "The stories already have been produced by journalists and the footage shot by camera people. This only has to be adapted and translated".
Stoyanova said that professional journalists should be trained to be fully integrated into public television: "I think it is time for Bulgarians with different names also to present Bulgarian news".
She hoped that the issue of the Turkish-language news would be resolved in media circles, on the basis of professional and rational decisions, not emotional ones, Stoyanova said.