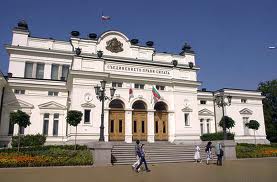 By Clive Leviev – Sawyer of The Sofia Globe
Members of Bulgaria's Parliament are being summoned to return from holidays as far afield as Thailand, while others will travel to Sofia from Varna on a special charter flight, to attend a special sitting to respond to President Rossen Plevneliev's veto of key elements of Budget amendments.
No date for the sitting, being held amid the month-long summer recess, has been announced, but it is widely expected that the sitting will be on August 16.
Bulgarian Socialist Party Speaker of Parliament Mihail Mikov earlier mentioned both August 14 and 16 as likely dates of the sitting, but as demands for clarity about the date grew, then said that not all leaders of parties in Parliament had responded to a request for their views on when the National Assembly should sit.
Boiko Borissov, leader of GERB – which is at once the largest party in Parliament and also is the opposition – insisted that the legislature should meet as soon as possible to respond to Plevnelievs veto of key revenue, spending and borrowing provisions in the Budget amendments, which were approved by BSP and Movement for Rights and Freedoms MPs at the request of the BSP government.
Borissov had asked for Parliament to meet as early as August 11 or 12, but socialist office-bearers in the legislature claimed that they had not received this request formally. In turn, this led senior GERB MP Dimitar Glavchev said that next time, the party would correspond via carrier pigeon, provided the birds could be trained to find the socialist officials.
According to media reports, MPs from the parties in power were scattered along beaches from the Greek coast all the way to Thailand.
MPs holidaying at the Euxinograd state holiday residence near Varna on the Black Sea coast, as well as other spots nearby Bulgaria's premier seaside city, reportedly were told by SMS from the ruling parties to be ready to take an early-morning flight on August 16 from Varna to Sofia.
Plans are for the flight to return them to the seaside late on Friday night so that they can resume their beach time on Saturday.
With MPs based more than 250km away being entitled to full travelling costs to reach the legislature, with limited costs being allowed to others, the special sitting will mean an additional bill for Bulgaria's taxpayers to foot.
It would take only a simple majority of MPs to overturn President Plevneliev's veto.
In combination, the BSP and MRF have 120 out of 240 seats in Parliament, although one is effectively vacant pending a Constitutional Court ruling on whether Delyan Peevski remains an MP in spite of his brief and controversial excursion to head the State Agency for National Security – the first of the current government's huge blunders that led to the now more than 61 days of anti-government protests.
As to Volen Siderov's ultra-nationalists Ataka, Siderov has spoken out against Plevneliev's veto but, he said, has given his MPs a "free vote" according to the circumstances of the special parliamentary sitting on the veto.
Borissov has speculated that if Ataka fails to provide a quorum for the sitting or if the parties in power cannot muster the necessary numbers to overturn the veto, the government could fall, opening the way for the early elections being demanded by anti-government protesters.
It is precisely this – so far merely theoretical – scenario that is pushing Bulgaria's parties in power to arrange the logistics so that they can secure a victory on the vote on the veto.