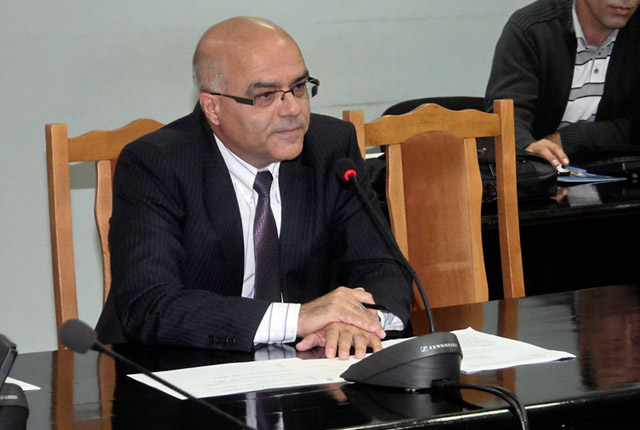 Athens, October 5, 2015/Independent Balkan News Agency
By Clive Leviev-Sawyer of The Sofia Globe
The chief of Bulgaria's Military Intelligence service, former caretaker interior minister Yordan Bakalov, has resigned, Bulgarian National Television said on October 4 – just a few months after his May 2015 appointment to the post.
His resignation followed Parliament's approval of a Military Intelligence Bill on October 1 that says that the director of the Military Intelligence Service must be someone of senior military rank on active military service, with at least 10 years' experience in the national security system.
The bill was amended from a first-reading version that would have allowed the Military Intelligence chief to be a civilian. A second-reading amendment by opposition Bulgarian Socialist Party MP Tasko Ermenkov was approved by MPs.
According to the final version of the bill, the Military Intelligence Service director will be appointed by a presidential decree on the recommendation of the Cabinet for a term of five years, and can be re-appointed for a second and final term of five years.
At the time of his appointment, Bakalov, who had been interior minister in the 2014 caretaker cabinet, succeeded Vesselin Ivanov, whom Defence Minister Nikolai Nenchev fired in March 2015.
Ivanov had held the post since 2010, the first civilian to do so, but was dismissed because he and Nenchev, a member of the cabinet from the quota of the centre-right Reformist Bloc coalition, did not agree to staff reforms at Military Intelligence, where close to 40 per cent of personnel date from Bulgaria's pre-1991 communist era.
The appointment of Bakalov to the Military Intelligence post has been the subject of media reports and speculation for two months, and well before Nenchev's comments on May 19, prompted reservations from members of parties in Bulgaria's centre-right ruling coalition.
In March, Tsvetan Tsvetanov, a former interior minister and current deputy leader of coalition government majority partner GERB, said that it was his personal opinion that the security sector should be staffed with experienced professionals.
It could create "tension in the system" should a politician be appointed to head an office which was highly sensitive, Tsvetanov said.
Bakalov told BNT on October 4 that after resigning from his post at the head of Military Intelligence, he would resume teaching at New Bulgarian University.
He said that he had verbally informed Defence Minister Nenchev and would officially submit his resignation on October 5.
Bakalov had been in Munich up to October 2, meeting his counterparts from Nato.
On October 2, Radan Kanev, co-leader of the Reformist Bloc parliamentary group, said that he would ask President Rossen Plevneliev to veto the bill.
The bill, as approved by Parliament, says that the director of Military Intelligence will be assisted by deputy directors who must have 10 years of experience in the sphere of national security or the armed forces, have access to classified information at "Top Secret" level, have a master's degree and Bulgarian citizenship, and are not members of a political force.