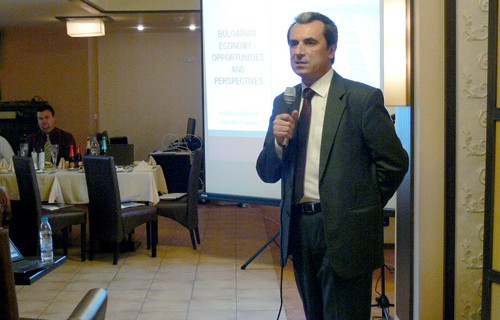 By Clive Leviev-Sawyer of The Sofia Globe
Bulgaria's new government, expected to be announced on May 27 and voted into office by Parliament on May 28, intends providing 200 million leva (about 100 million euro) to assist poor people to pay their electricity and heating bills, create temporary jobs and strengthen support for mothers, prime minister-designate Plamen Oresharshki told news agency Reuters in an interview.
Oresharshki, who was finance minister in the 2005 to 2009 socialist-led coalition government and now is poised to head an "expert" government, did not make clear from where this money will come.
In principle, the assistance is similar to that provided as a one-off by the Marin Raykov caretaker cabinet in April 2013. Diplomat Raykov was appointed prime minister in March after centre-right head of government Boiko Borissov led his government out of office in the face of cost-of-living and anti-monopoly protests. Funding for the 41 million leva one-off assistance was acquired by shifting spending originally set aside for infrastructure projects.
The names of Oresharshki's ministers were expected to be announced by the Bulgarian Socialist Party after the party's national council approved the cabinet appointments, the result mainly of talks with the Movement of Rights and Freedoms, the party led and supported in the main by Bulgarians of Turkish ethnicity and a customary ally of the socialists.
The BSP and MRF have insisted that "expertise" is the key criterion in the appointment of ministers and unlike the tripartite coalition of 2005 to 2009, there are no set quotas for political parties.
The BSP and MRF placed second and third, respectively, in the May elections. While Borissov's party got the most votes, it had no prospect of getting a cabinet approved in Parliament where the other three parties were implacably hostile to it.
Oresharski told Reuters that he believed that there was a way to restructure costs and keep Bulgaria's deficit at a level of 1.3 per cent of gross domestic product in 2013.
Although the BSP had said during its election campaign that it would scrap the 10 per cent flat tax on individual incomes and replace it with a "progressive" tax system, the rate was expected to stay in place because of MRF opposition to doing away with the existing rate.
Another election campaign promise by the BSP was the creation of 250 000 jobs during its four-term of office, 100 000 of these in the first year, although it also remains unclear how this will be achieved.
A major priority for the Oresharski cabinet will be changes in the energy sector in order to avoid a repeat of the early 2013 protests about high electricity bills.
For the BSP, an obsession has been restarting work on the Belene nuclear power station project. The party managed to force a referendum on the issue in January 2013, but it was inconclusive amid a low voter turnout. A key point in the dispute was a lack of clarity about costs, which opponents say would be so vast as to collapse Bulgaria under massive debt for generations.
Oresharski said that work on Belene would be restarted if a new review showed that the project would make economic sense.
(Photo: Finance Ministry)