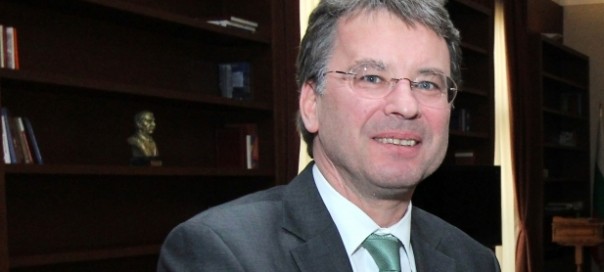 By Clive Leviev Sawyer of The Sofia Globe
Bulgaria's Ministry of Foreign Affairs has sketched out to local media its revised policy on recommending top state honours for foreign ambassadors ending their terms in Sofia.
This has been a matter of controversy after French ambassador Philip Autie (photo) ended his term in Bulgaria without having the Stara Planina, the country's highest honour, conferred on him – in breach of previous custom in which the honour was handed to practically all departing foreign envoys.
Earlier, Autie and his German counterpart Matthias Hoepfner had issued a joint statement calling on the Bulgarian Socialist Party government, in office since the end of May and the target of widely-supported public protests demanding its resignation, to listen the voices coming from civil society.
The snub of Autie was seen as punishment, as had been demanded by ultra-nationalist leader Volen Siderov, for the stance taken by the French ambasssador.
At the time, however, the Foreign Ministry said that it was reconsidering the rules for recommending to the President the conferring of such honours.
In the case of Autie, lacking a recommendation from the cabinet to hand Autie the honour, President Rossen Plevneliev received the departing French ambassador and handed him a symbolic departing gift. The move by Plevneliev, in office as head of state since January 2012 following his election on a centre-right ticket, was seen as distancing himself from the government's snub of Autie.
Following a request by Bulgarian site Mediapool, the Foreign Ministry said on November 18 that it would recommend honours to outgoing foreign ambassadors only if they had made "specific contributions" to Bulgaria.
This included, for example, supporting the positions of Bulgaria in international organisations and contributions to the development of trade and economic relations. Other criteria included contributions to the development of relations in the fields of culture, education and sports, and "other contributions" to the development and strengthening of bilateral relations.
The ministry said that the principle of reciprocity would be important in conferring state honours.
A dedicated committee would consider proposals to award honours to foreign ambassadors.
The ministry said that its idea was to avoid automatically awarding such honours.
Meanwhile, some days after it emerged that the Foreign Ministry under BSP control was sending people abroad who had backgrounds with Bulgaria's communist-era secret services State Security and military intelligence, the names of political appointments as ambassadors also emerged.
Early on after the BSP came to power at the end of May 2013, there were clear signals that it intended to reverse the policy of the previous centre-right government of keeping people with State Security backgrounds out of senior diplomatic posts.
This move resulted in Plevneliev's response that as head of state, he would refuse to sign decrees approving the appointment of former State Security agents and collaborators as Bulgaria's ambassadors.
However, media reports said that there were cases where former State Security people had been sent abroad as charge d'affaires or to the number two spot at embassies, circumventing the need for presidential consent.
Foreign Minister Kristian Vigenin told local media that such cases did happen, indicating that this was according to the needs of missions, while adding that he based decisions on the merits and experience of individuals and not whether they had worked for State Security.
On November 19, reports named BSP MP Mladen Chervenyakov as ambassador-designate to Montenegro.
Chervenyakov's appointment appears to run counter to earlier statements by Vigenin that he would keep political appointments to a minimum and that the 20 per cent quota for such appointments was, in any case, full.
Reports noted that Chervenyakov had dissented on key aspects of recent BSP behaviour, notably the controversial abortive appointment of Delyan Peevski as head of the State Agency for National Security, the incident that, in mid-June, unleashed the DANSWithme anti-government protests.
Chervenyakov, while not a former State Security person, also has no background in foreign diplomacy nor experience regarding the Western Balkans.
Mediapool noted that Vigenin had said that he intended completely removing the political quota in appointments of ambassadors, but so far no legislative changes in this regard had been submitted. In any case, there was no definition of what consituted a political appointment, making the mathematical quota easy to circumvent.