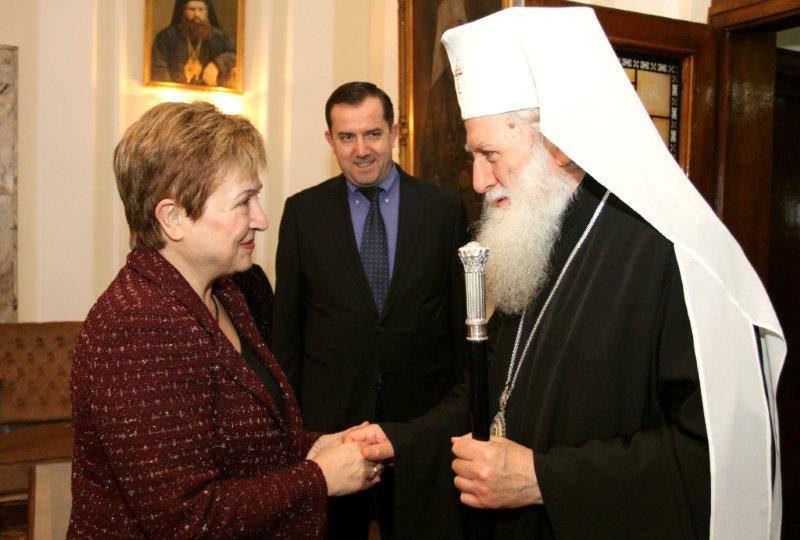 By Clive Leviev-Sawyer of the Sofia Globe
Bulgaria's European Commissioner, church Patriarch in call for religious and ethnic tolerance
Bulgaria's European Commissioner Kristalina Georgieva and Bulgarian Orthodox Church Patriarch Neofit have emphasised the importance of protecting religious and ethnic tolerance.
At a meeting at the Sofia headquarters of the church's governing body, the Holy Synod, Georgieva – whose portfolio is international co-operation, humanitarian aid and crisis response – told Neofit of the terrible suffering as a result of religious intolerance that she had witnessed during official engagements in Africa, the Middle East and Asia.
Georgieva emphasised her concern at the widespread loss of tolerance among people of different ethnic and religious communities who for centuries had lived together in peace and mutual understanding, but today were in constant conflict.
According to a statement after the meeting, Georgieva and Neofit noted the role of the Bulgarian Orthodox Church in defending "the eternal spiritual values of the Bulgarian people and the preservation of social peace" in the country.
The two agreed that in these troubled times of social upheaval, the world's people were increasingly in need of hope and a solid foundation in their lives, that the answer to human suffering must be mutual empathy in difficult times "and that what makes us human and is the source of our humanity is faith", according to the statement.
Bulgaria has long boasted of its "model of ethnic tolerance" but the country's recent record is hardly unblemished.
Ethnic tensions between Roma and non-Roma Bulgarians rose in 2011 after an ethnic clash in the village of Katunitsa, which in turn led to marches in several Bulgarian cities led by anti-Roma far-right groups.
In the three parliamentary elections since 2009, Ataka – a party founded around ultra-nationalism and led by Volen Siderov, who has been the subject of complaints of anti-Semitism and expresses anti-Islamic, anti-Roma and xenophobic views – has won seats.
Human rights monitors have recorded instances of anti-Semitic and anti-Islamic incidents, while the notable increase in the number of refugees who came to Bulgaria in 2013, especially because of the Syria crisis, led to open displays of intolerance such as protest marches and self-appointed illegal "civil patrols" by ultra-nationalists in Sofia.