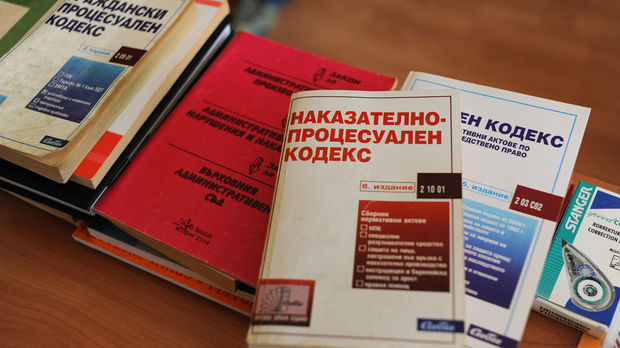 By Clive Leviev-Sawyer of the Sofia Globe
Draft amendments to Bulgaria's Penal Code have come under fire from human rights groups and minority political parties on a number of points, including for restricting the possibility to photograph or record corrupt politicians taking bribes and for allowing criminals to avoid going to jail, instead only paying fines.
Human rights watchdog the Bulgarian Helsinki Committee said that the proposed amendments, put forward in late December 2013, contradicted international standards.
There are varying interpretations of the effect that the provisions of the code will have on the ability to take photographs or film footage.
One interpretation is that a provision against photographing people without their express consent would make all photographs such as those of the mass anti-government protests that began in June 2013 unlawful – whether taken by professional media photographers or by individuals who then post such pictures on social networks like Facebook.
The amendments would see anyone taking a photograph or footage in violation of the Penal Code facing up to a year in jail and a fine.
Daily Sega said that photographs such as those released online late in 2013 of ultranationalist Ataka leader Volen Siderov on a beach in Cuba while Parliament was in session in Sofia would be in breach of the code.
The amendments would spare politicians from compromising pictures, the report said.
A new article 146 in the code provides for a year in jail and a fine for anyone who "illegally photographs, films, records or subjects to any similar action another person without his knowledge or in spite of his express disapproval".
An exception for this is provided if a politician, MP or senior public servant is at an event directly related to his work, such as a sitting of Parliament, meeting with constituents, meeting or rally. The report said that it was hardly a coincidence that this phrasing was used, rather than "public place".
According to the draft code, prosecution for alleged illegal photography will be on the basis of a private complaint by the person who claims to have been affected, not on the initiative of a prosecutor. This would mean that in practice, the court would not have the right to refuse to institute proceedings.
The report quoted lawyer Svilen Ovcharov, a representative of environmental organisations, as saying that the Penal Code was dangerous because it could lead to an "avalanche" of court actions against photographers and media people. It would lead to blockage and complete censorship in respect of photographs and television footage, Ovcharov said.
A separate report quoted Ovcharov as saying that under current law, a person in a public place such as the square where anti-government protests customarily are held is deemed not to be declining to be photographed.
Daily 24 Chassa said that the proposed Penal Code gave an "unexpected bonus" to criminals.
It did this, the report said, by changing the rules by which a repeat offender could pay a fine rather than go to jail. The new code would empower criminals to repeatedly avoid prison.
The Bulgarian Helsinki Committee said that the new draft Penal Code was contrary to international standards.
"Obviously, the minister (of justice, Zinaida Zlatanova) was determined to fulfil her promise to present a bill in December and submitted it to the National Assembly, regardless of quality," the group said.
Rather than, as Zlatanova had claimed, the proposed bill meeting the requirements of international treaties and conventions to which Bulgaria is a party, in a number of areas the bill was in open conflict with these, with the recommendations of international bodies and guidelines for measures resulting from judgments against Bulgaria in the European Court of Human Rights," the Bulgarian Helsinki Committee said, adding that it was preparing a detailed analysis of these points.