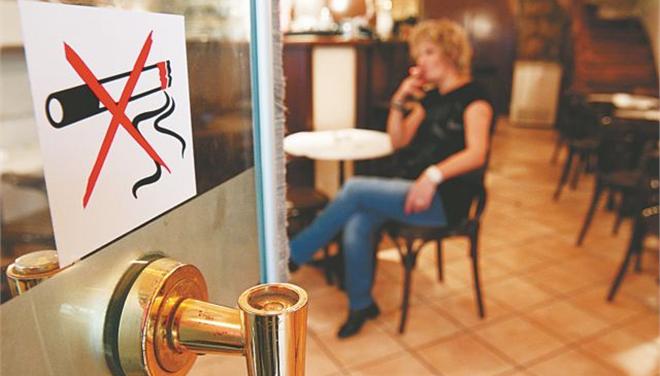 By Clive Leviev Sawyer of The Sofia Globe
Ahead of the May 2013 parliamentary elections, Bulgaria's socialist party promised that if it came into power, it would ease the full ban on smoking on public places – but now, deeply unpopular and the target of nationwide daily protests demanding its resignation, the party appears to be quietly backtracking on the issue.
Its abortive appointment of controversial figure Delyan Peevski as head of the State Agency for National Security already having triggered a huge backlash against a government formed with the support of a coterie of minority parties, the government presumably may want not further trouble by offending anti-smoking groups.
In late 2012, when there were attempts to backtrack on the ban on smoking in bars and restaurants that had come into effect in June last year, large-scale protests helped to dissuade the then-parliament from approving the amendments.
The socialists' plans to change the law were headline-makers in the early days of the administration. The familiar battle lines were drawn, between those arguing for the continuation of the full ban on the grounds of national health issues, while those wanting it diluted arguing that the full ban was financially harmful to the hospitality industry in Bulgaria.
Plamen Oresharski, appointed in May to sit in the prime minister's chair in the socialist government, had by early July also discreetly backtracked. A smoker himself, he earlier had indicated support for the easing of the ban (underlining that the fact that he smokes was not influencing his position), but by July 8 was saying that the matter should be left to Parliament.
On July 8, he said that he was opposed to people being able to smoke "anywhere". "To me, it seems that we should never go back to earlier periods of widespread smoking in public places," Oresharski told local radio Darik.
Health Minister Tanya Andreeva, who from the outset stuck to the point of view that health issues had to be the primary consideration – against the fact that all three parties effectively supporting the government want the full ban removed – has told local media that she believes that the socialist party would not go ahead with easing the ban.
On July 13, Andreeva said that she would propose that fines for breaching the ban should be increased. Thought should be given to more serious sanctions, such as closing establishments that commit second or third offences, she said.
Earlier, daily Sega said that socialist MP Martin Zahariev had said that while his group, those in favour of easing the ban, had legislation ready, it was not on the agenda now, given the tense the situation in the country.