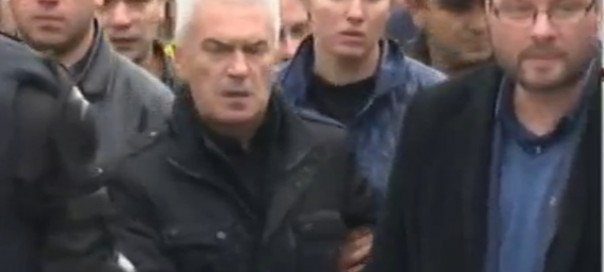 Sofia, November 17, 2015/Independent Balkan News Agency 
Volen Siderov, leader of Bulgaria's opposition minority party Ataka, was taken into 72-hour custody on November 17 on charges of hooliganism and assault.
Siderov came as ordered to the Sofia offices of the investigative services. The Ataka leader was accompanied by MP Dessislav Chukulov, who also faces criminal charges and is subject to arrest, and by Siderov's lawyer, Ataka MP Yavor Notev, as well as the mother of Siderov's child, Denitsa Gadzheva.
There was a strong police presence outside the building. A group of Ataka supporters gathered, disrupting traffic. At one point, police warned the Ataka supporters to disperse, saying that their gathering was illegal. The Ataka supporters carried party banners, Bulgarian and Russian flags.
Reporters at the scene said that Siderov had told his companions that he would go on a hunger strike, refusing food and water.
On November 20, Sofia City Council is expected to rule on an application by prosecutors to remand Siderov and Chukolov into permanent custody pending the outcome of their trials.