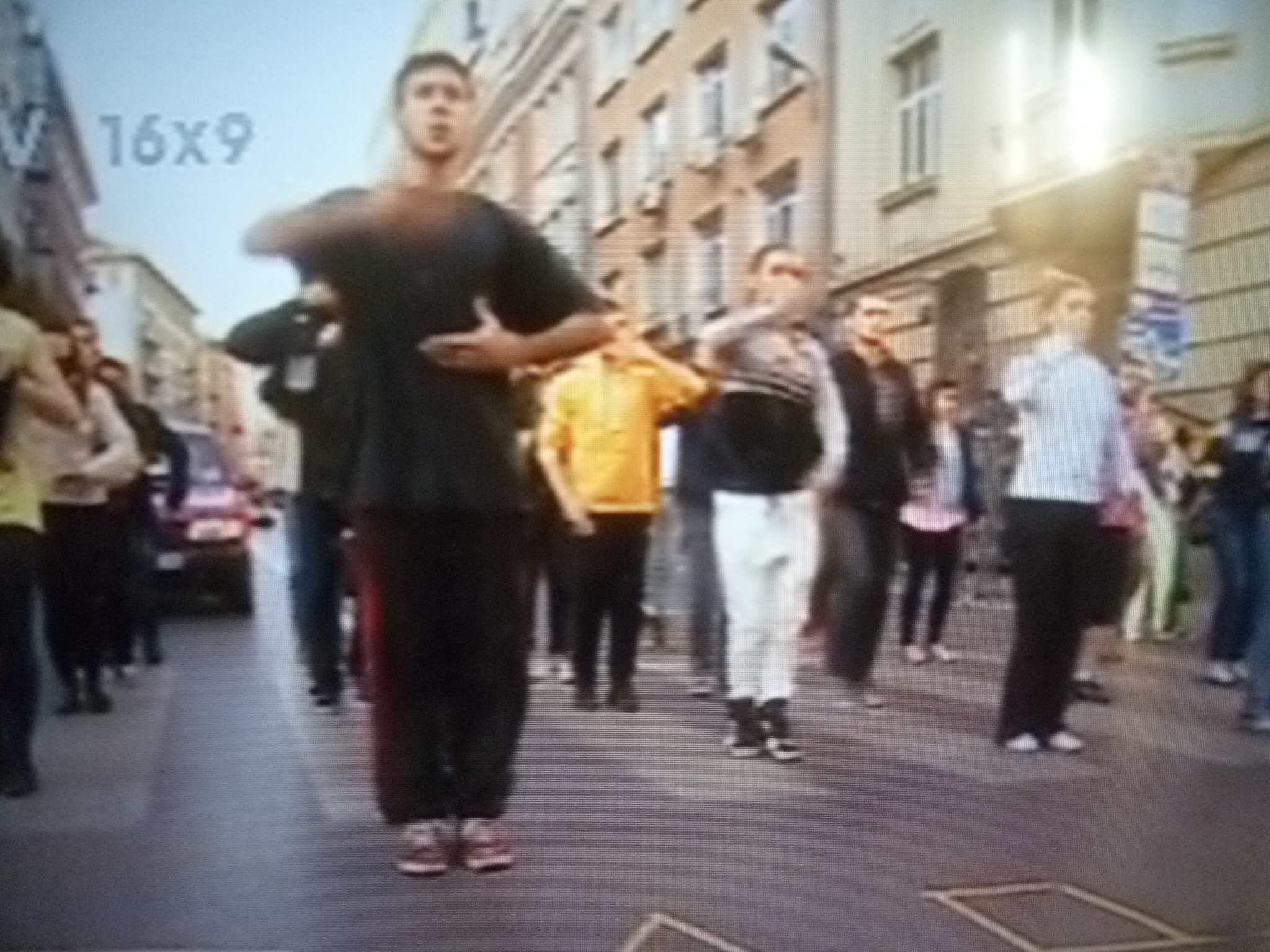 By Clive Leviev – Sawyer  of The Sofia Globe
Motorists in a street in central Sofia were treated to a dance performance – whether they wanted such a performance or not – that blocked traffic as theatre academy students showed their support for the anti-government "occupation" of Sofia University's central campus building where protesting students are demanding the resignation of the Bulgarian Socialist Party government.
Pro-government forces reject the students' protest as "choreographed" but in this case it literally was.
A week into the protest occupation at Sofia University, October 30 was the third day that no classes have been held at the central campus.
Support has grown inside and outside the Sofia University building. Groups of students at other universities across the country have associated themselves with the "Occupy" protest, while the number of students sleeping overnight at the main lecture hall in the Bulgarian capital city's main university has grown to a reported more than 300.
Like the anti-government protests in Bulgaria that have gone on for more than four months, the students' protest is a sign of the deeply divided nature of Bulgarian society right now.
Sofia University authorities have paid lip service to supporting the idea of students protesting but have called for them to do so in a different way and somewhere else so as not to disrupt teaching, a call made on October 28 but ignored by protest participants.
The call for students not to disrupt teaching has become a mantra in government circles and among media allied to the government. In turn, the standard response has included students saying that a protest that does not represent an inconvenience is no protest at all.
In the tradition of student protests everywhere, there is a certain headiness about proceedings.
On October 29, people who took part in the protests against the disastrous Bulgarian Socialist Party government in 1997, that brought down an administration that had driven Bulgaria to financial and economic catastrophe, gave a teach-in to their latter-day contemporaries at Sofia University.
It is an inescapable fact, however, that the student protests of 2013 are of a much smaller scale than those of 1997, as media reports and critics have pointed out. In counterpoint, since the student protest began, numbers have grown, not shrunk. And, at the same time, they have reinvigorated the mainstream anti-government street protests, with people returning to the streets not only to repeat their calls for the BSP government to go, but also to tell the students, "we are with you".
The protesting students occupying the central building at Sofia University have issued a message to people who support them not to bring any further food for now, because they are oversupplied from those who have come to the gates bringing contributions.
At Sofia University, students acting as security personnel have a system for keeping out provocateurs, admitting only contemporaries with valid student cards. The media are generally barred from the building too, but a few have been admitted, and some accounts have emerged about life inside the building, as excited debate goes on into the night – making it difficult to sleep, for those who try to put their heads down on desks and catch some shut-eye.
As a matter of self-discipline, alcohol, smoking and foul language are banned in the auditorium, according to accounts from inside.
In hall 272, where the occupation originated, discussions continue. "Everyone has the right to propose a topic. Students discuss organizational details and further action. Voting is by show of hands. There is no option to abstain," according to one account.
How matters will turn out remains to be seen.
The widely-supported anti-government protests have been rejected by the parties in power, which seek to portray them as pursuing the interests of individual opposition parties and "oligarchs". Notwithstanding opinion polls showing majority support for demands for the resignation of the government, those in power are insisting that they will not resign.
The difference regarding the student protest is, among other things, the physical occupation of a building. On October 29, the chief secretary of Bulgaria's Interior Ministry said that police would not intervene to evict the students, saying in a television interview that universities were autonomous and police would enter the building only if there was evidence that a crime was being committed inside.