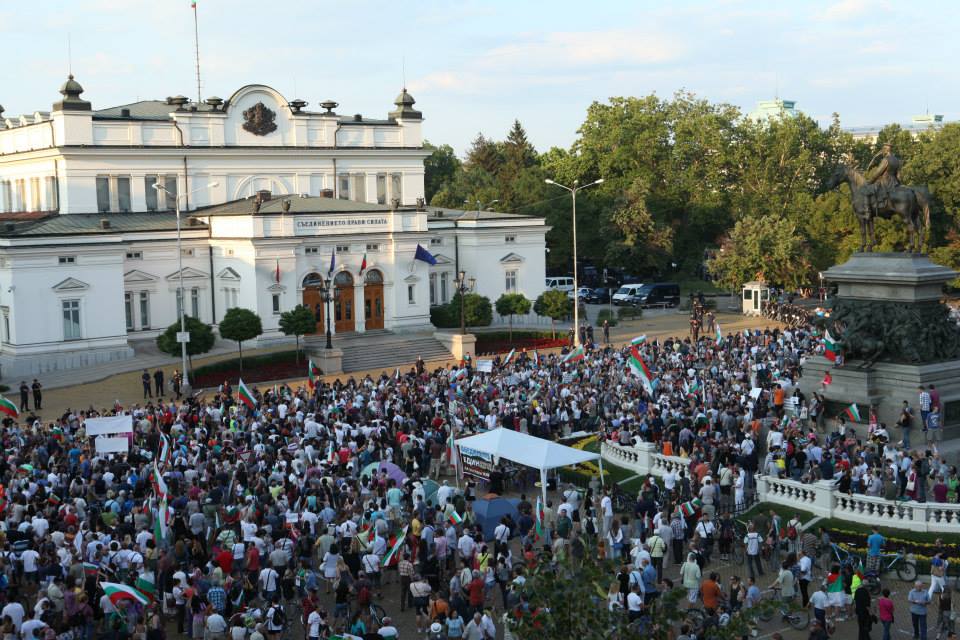 By Clive Leviev-Sawyer of The Sofia Globe
The mass public protests demanding the resignation of the Bulgarian Socialist Party government entered their 40th day on July 23, with the standoff continuing as the government held to the position that it would not resign.
In a reference to Eastern Orthodox Christian tradition, the religious denomination to which most Bulgarians declare themselves as adhering, anti-government protesters brought a coffin to Parliament. In this tradition, official mourning continues for 40 days.
With the anti-government protests having drawn tens of thousands of people daily, the costs of deploying police to accompany them continue to mount as overtime builds up.
There are two forms of anti-government protest daily – the morning "coffee-drinking" outside Parliament, and the evening procession around points of significance in the centre of Bulgarian capital city Sofia. These latter processions generally go on until late into the evening.
Recently, Interior Minister Tsvetlin Yovchev said that overtime costs had run into three million leva (about 1.5 million euro) while local media said on July 22 that the Interior Ministry was planning to set aside a further 1.5 million leva for overtime pay for police.
The 40th day of protests coincided with a visit to Sofia by European Commission Vice-President Viviane Reding to launch locally an EU initiative to encourage dialogue between the bloc's citizens and institutions.
Anti-government protesters launched a petition to Reding for support, while on July 23, a large number gathered outside the venue to request a meeting with her.
Inside the venue, Reding told the audience: "Who is responsible for your government? You, Bulgarians. You vote. I talked to youths yesterday. I asked them what they want? They said they want their voice to be heard. I call on your political parties to set up an electoral system that will make it possible to hear people's voice before making a decision".
(Photo: Vassil Garnizov)