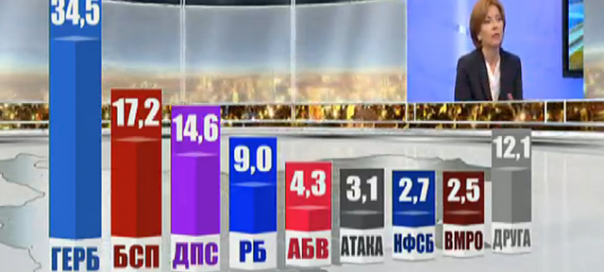 Sofia, October 26, 2015/Independent Balkan News Agency
Initial exit poll results after Bulgaria's October 25 2015 municipal elections confirmed Prime Minister Boiko Borissov's centre-right GERB party as the country's strongest political force, as it turned in results similar to those in the October 2014 early national parliamentary elections.
Putting figures from exit polls after municipal elections next to official results from a parliamentary election is not, of course, a fully fair comparison and should be seen only as a snapshot of political fortunes.
According to estimates by Alpha Research, GERB got 34.5 per cent of the vote countrywide in October 2015. In the October 2014 parliamentary elections, GERB got 32.67 per cent, according to official Central Election Commission figures.
In October 2015, the Bulgarian Socialist Party got 17.2 per cent of the countrywide vote, against its 15.4 per cent in October 2014. The parliamentary opposition party, however, again failed to win any major city.