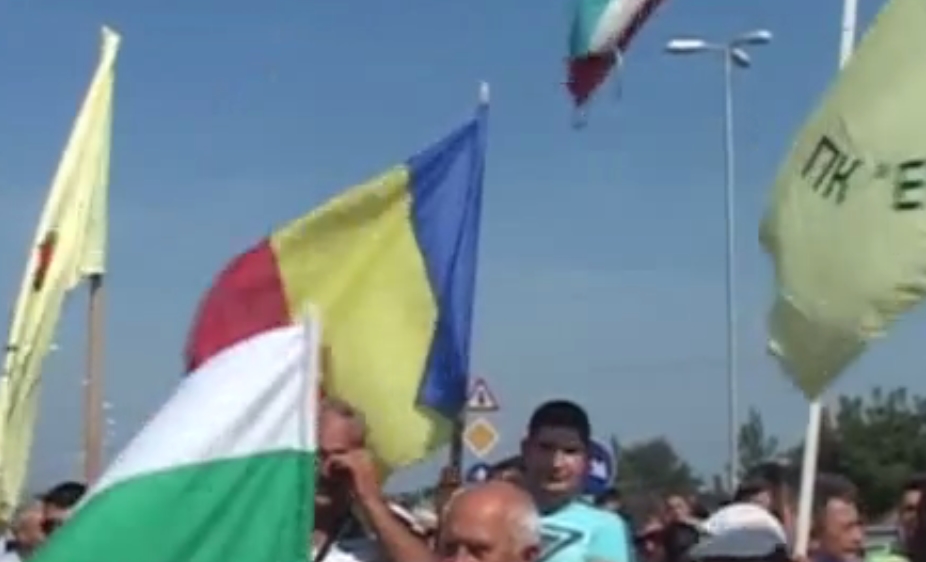 By Clive Leviev – Sawyer of  The Sofia Globe
Bulgarians and Romanians joined in an August 31 protest against a tyre processing plant that they allege will be harmful to their health.
The protesters blocked traffic to the Danube Bridge 2 at Vidin – Calafat for about 15 minutes, preventing about five goods lorries and two cars from getting to the Bulgarian-Romanian border.
The group of about 250 protesters said five villages near the Danube town said that they would fight all the way to stop the tyre processing plant in Slanotran from getting underway.
They were supported by representatives from five Romanian municipalities on the opposite bank of the Danube River.
The August 31 protest was a sequel to one held about a month and a half ago, at which protesters expressed their concerns about what they see as the potential hazards of the plant that will process about 20 000 tons of old tyres a year.
The protesters said that they had had no response from the Environment Ministry.
Public broadcaster Bulgarian National Television said that the Romanians were concerned about the impact on the ecology of their region in south-western Romania, famed for its production of vegetables and other agricultural products.
The mayor of the Romanian town of Calafat, Mircea Gutsal, said that representatives of farmers and the tourism business had joined the protest, "we care what happens less than a kilometre from us".
BNT said that two weeks ago, investors in the tyre processing plant had explained the advantages of the new technology that would be used, but "people do not believe them".
The protesters said that unless their demands were met, they would petition the European Commission in Brussels to intervene.