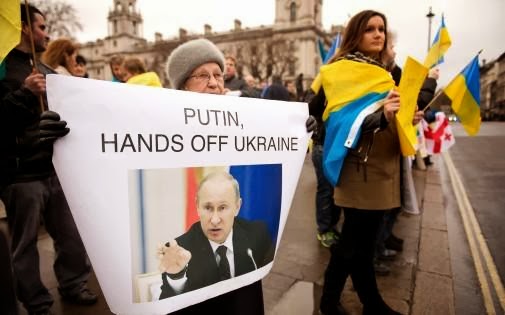 By Clive Leviev-Sawyer of the Sofia Globe
Bulgarian capital city Sofia saw a succession of three days of protests outside the Russian embassy against Moscow's military invasion of Crimea in Ukraine.
The protest was similar to those held outside Russian diplomatic offices in recent days elsewhere in the region, from Prague to Ankara, Nicosia to Tbilisi, and further afield in London, Washington DC, Toronto, Wellington New Zealand and Sydney.
In Bulgaria, the protests were organised by people linked to the continuing anti-government protest groups DANSwithme and the Early Rising Students.
From March 1 to 3, groups of a few dozen people joined the protest outside the Russian embassy in Sofia against Moscow's policies towards Kyiv.
One of the protesters, Gergana Nikolova, told local media that what had happened in Ukraine was "a military invasion, a violation of the sovereignty of a country and should be called nothing less than a crime".
On the first day of the protest, a man was detained by police after throwing a poster into the grounds of the embassy. He was released after a few hours.
Several of those taking part in the protest were Ukrainians living in Bulgaria, while members of the Syrian community also joined in expressing solidarity with Ukraine.
Protesters chanted, "Crime is not Moscow" and held posters reading, among other things, "Hands off Ukraine". The same slogan was daubed overnight on March 2 on the Soviet Army Monument in central Sofia.