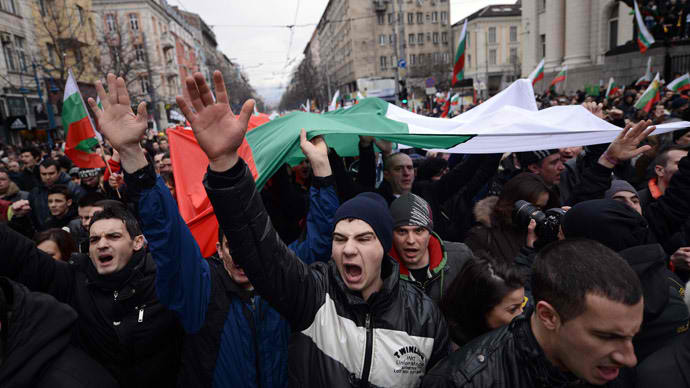 By Clive Leviev – Sawyer of The Sofia Globe
Bulgaria's two major trade union federations have formed a joint strike committee but it is an open question whether this signals that they will take to the streets in alliance with national anti-government protests.
The Confederation of Independent Trade Unions in Bulgaria (CITUB) and trade union federation Podkrepa said on November 11 that they had formed a unified national strike committee "because of the need for joint action on the current socio-economic situation in the country".
The announcement came as the current Bulgarian Socialist Party government had tabled the proposed 2014 national budget in Parliament, against a background of the approval rating of the cabinet plummeting to a further all-time low and with anti-government protests reinvigorated by an increasingly assertive protest by university students who want the government out.
The union federations announced the joint strike committee after a discussion on the student protests and the anti-government protests, the latter having continued daily since mid-June and which the more reliable opinion polls have shown to have majority public support.
The blunder-prone government recently has had another blow when the now-former deputy leader of its ruling axis ally the Movement for Rights and Freedoms, Hristo Biserov, who also was parliament's deputy speaker, stepped down from his party position and as an MP just before it emerged that he and his son were being investigated for alleged large-scale money laundering. Biserov's whereabouts are not currently publicly known.
The union federations said that they would hold a news conference on November 13 to announce their immediate plans.
But at the same time local media said that a national strike by the unions was hardly likely because of the cumbersome procedures that would have to be undergone before this could be declared.
Until recently, the unions have been reserved towards the anti-government protests, which want the resignation of the BSP government, new parliamentary elections and profound reforms to rid public life of the influence of questionable business alliances.
However, on November 6, Podkrepa leader Konstantin Trenchev met representatives of the "Early Rising Students" group that three weeks ago began an occupation of the central campus buildings of Sofia University, expressing sympathy towards them and their actions.
CITUB also had declared itself in principle as favouring the anti-government protests, including those by the university students, but not in the form of the "Occupy" protest mode.
Confederation leader Plamen Dimitrov recently told local media that he does not believe the conditions are right for a national strike, but this could change "180 degrees" in a few weeks. CITUB has a critical view of the proposed 2014 Budget, saying that the proposals lack adequate solutions in entire sectors such as energy and health care.