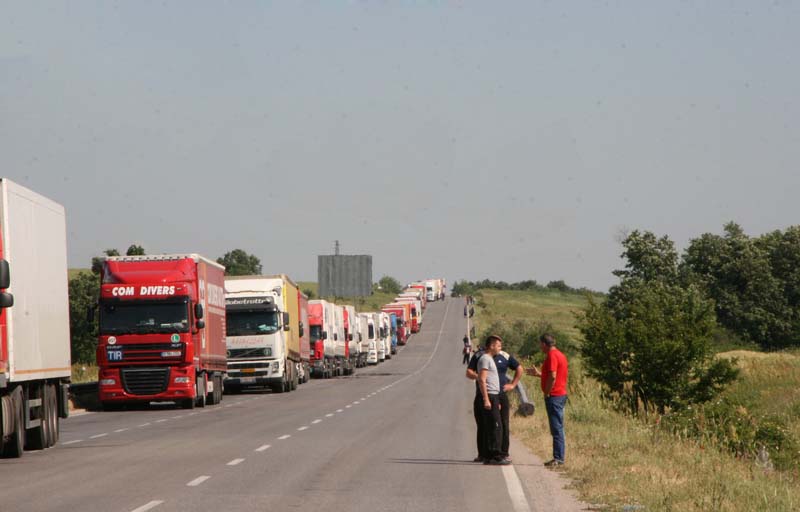 By Clive Leviev-Sawyer of the Sofia Globe
Road transport associations from Bulgaria and Turkey are to meet in Istanbul on February 13 2014 to discuss the issue of transit permits which have led to problems for trucks at the Bulgarian-Turkish border in recent days.
This is ahead of a meeting arranged earlier between Bulgarian and Turkish government officials in Ankara on February 21.
The meeting of the road associations from the two countries was arranged in an exchange of letters between Bulgarian Enterprises for International Road Transport head Georgi Petarneichev and the Roads (AEBTRI) and International Transporters Association of Turkey (UND) head Çetin Nuhoğlu. The meeting was initiated by the International Road Transport Union.
The problem began after Turkey reciprocated for the failure of Bulgaria to issue a prior agreed number of permits for the transit of trucks. Turkish transport authorities said that Bulgaria had agreed to their request to issue 125 000 truck transit permits but instead issued only 5000.
On February 11, public broadcaster Bulgarian National Radio said that a total of about 140 Turkish goods lorries were stranded at the Kapitan Andreevo – Kapikule and Lessovo – Hamzabeyli border checkpoints. Passenger cars, buses and trucks with perishable goods were being allowed to pass a blockade mounted by a number of small freight haulier firms.
The dispute is seen as arising from competition between Turkish and Bulgarian companies for road freight business.
On February 10, the queue of lorries waiting on the Bulgarian side of the border was said to have reached three to four km.
Bulgarian news agency BTA said that deputy prime minister Daniela Bobeva had promised hauliers to ask her Turkish counterpart for a meeting within 24 hours of representatives of the two countries, because problems were piling up and it was too long to wait for the scheduled February 21 meeting.
Bulgarian industry associations gave the government three days to schedule an emergency meeting on the transit issue, saying that if this did not happen, protests would be stepped up, possibly to include a blockade of capital city Sofia.