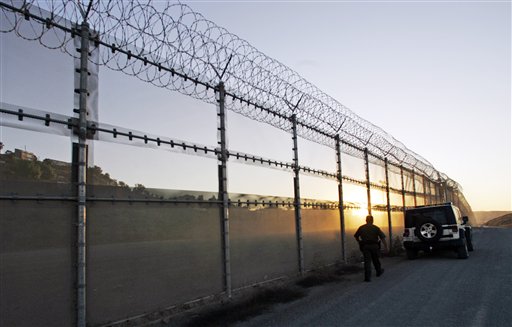 By Clive Leviev-Sawyer of the Sofia Globe
The controversy in Bulgaria over its expensive fence project at the Turkish border to keep out illegal migrants has trailed off with practically no serious punishments – instead, even promotions – at the Defence Ministry, while the Interior Ministry, which evaded blame, has got a budget boost for border security.
It emerged in February 2014 that orders for the supply of materials for the construction of the fence were given to five companies chosen without a tender process. National controversy erupted over the fence coming with a price tag vastly higher than that initially estimated by the government.
The Bulgarian Socialist Party government hastily ordered the building of the fence in response to the significant increase in 2013 of refugees seeking to cross the Turkish border into Bulgaria, mainly as a result of the crisis in Syria.
When the price tag made headlines, having risen from 5.1 million leva to 9.6 million leva, an investigation was ordered.
The inspectorate at the cabinet office found that there had been a number of irregularities and said that Interior Minister Tsvetlin Yovchev and Defence Minister Angel Naidenov should renegotiate the price and punish the culprits.
In mid-March, Naidenov said that there would be consequences for nine senior military staff – four generals, three colonels, a lieutenant-colonel and a civilian employee.
These punishments turned out to be largely token, mainly written reprimands, according to a report by daily Trud, based on responses to inquiries to the Defence Ministry.
And while the cabinet inspectorate had found that the responsibility for the appreciation in price of the fence project lay with the Interior Ministry, which had wrongly estimated the price at the outset, Yovchev denied that the ministry had anything to do with the order and, as Sega reported on April 24, there was no internal investigation at the ministry.
Meanwhile, at the Defence Ministry, two of the officers involved were promoted to general officer rank, one – Neiko Neikov – as deputy chief of defence while another, General Andrei Botsev, was appointed to take Neikov's place as land forces commander.
In turn, the Interior Ministry has continued to succeed in being handed more money to deal with border security and the refugee situation.
Sega noted that in 2014, the ministry will spend almost double the money it was given in its budget for these activities. To April, the ministry and related services in charge of dealing with illegal migrants got an additional more than 38 million leva, while the ministry will get a further 65 million leva before the end of 2014 for border security.