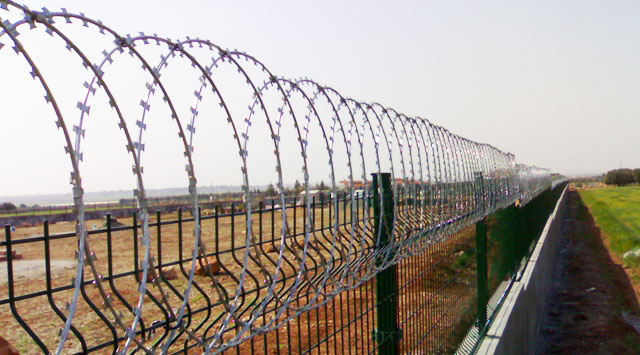 By Clive Leviev-Sawyer of the Sofia Globe
Bulgaria is set to complete the controversial project to build a fence on the Bulgarian-Turkish border "within days", the country's Defence Minister Angel Naidenov said on June 30.
"There is no other institution that would have been able to build a defence structure within a period of four months, of which two months were constant rain. We are within days of completing this significant construction for the Bulgarian army, necessary for Bulgaria's security," Naidenov told reporters, as quoted by news agency Focus.
Naidenov's statement came on the same day that broadcaster Darik Radio said observers estimated that the fence was most likely to be completed in late-July or early-August. The same report said that having made erroneous statements about the fence's degree of completion in the past, the army was no longer giving detailed new updates on the 30km fence.
The fence project was approved towards the end of 2013 by the Bulgarian Socialist Party government as a response to a significant increase of illegal crossings into Bulgaria from Turkey as a result of instability in the Middle East and North Africa, with many refugees fleeing the crisis in Syria.
Spending was initially set at 5.1 million leva but it later emerged that the project would cost 7.5 million leva. This caused an uproar, with the opposition in Parliament calling for a formal investigation.
On March 21, Angel Naidenov, defence minister in the BSP cabinet, said that four generals, three colonels, a lieutenant-colonel and a civilian officer would face disciplinary steps over the fence procurement deal.
These punishments turned out to be largely token, mainly written reprimands, according to a report by daily Trud in April, based on responses to inquiries to the Defence Ministry.
Meanwhile, at the Defence Ministry, two of the officers involved were promoted to general officer rank, one – Neiko Neikov – as deputy chief of defence while another, General Andrei Botsev, was appointed to take Neikov's place as land forces commander.
A more recent report by weekly newspaper Kapital on June 13 claimed that only 12km of the planned 30km had been completed and some of the metal constructions were already rusting away.