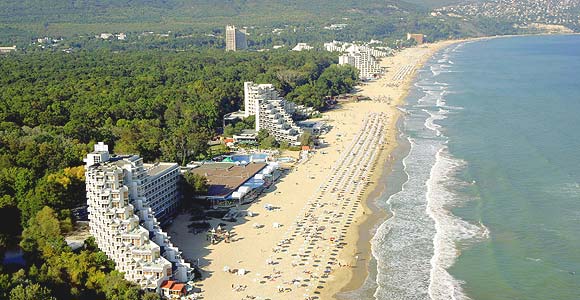 By Clive Leviev-Sawyer of the Sofia Globe
Faced with difficulties in getting qualified staff, summer resorts in Bulgaria are hiring people from Bulgarian communities in FYR Macedonia, Moldova, Serbia and Ukraine.
Popular Black Sea summer resorts in Bulgaria lose staff to Western holiday destinations where the pay is better, a problem that worsens every year.
To try to deal with the problem, pay of hospitality and entertainment industry employees at Bulgarian summer resorts has become high by the standards of the country, which has among the lowest pay levels in the European Union.
This emerged in a report by public broadcaster Bulgarian National Television, as Bulgaria began its transition from the winter to summer holiday season.
The lack of qualified staff meant that many summer resorts were not ready, while the first "early bird" tourists were expected as early as the end of April.
The winter ski season in Bulgaria's Bansko resort closed this past weekend, while in Pamporovo, skiing will continue until Easter Sunday, April 20, with snow expected around Easter for the first time in several years. In 2014, Easter is on the same date in both the Western and Eastern Christian traditions.
Bansko said that it had about 5000 visitors a day this past winter ski season, and about 15 000 foreigners, mainly from Romania, Turkey, Russia and the UK. Visitor numbers were good in spite of resorts having to provide artificial snow because of a low level of natural snowfall.
As the winter season headed to its close, the new rafting season opened on April 5 on the Struma River in the Kresna Gorge.
At the seaside, meanwhile, another hardy annual issue arose – that of noise from late-night open-air bars.
Hoteliers in Sunny Beach are proposing to the Nessebur municipal council that open-air restaurants and bars in the resort should be required to close by 11pm to reduce noise that disturbs holidaymakers trying to get to sleep in hotels in the resort.
In summer 2013, inspectors issued about 400 writs for violating noise levels, but this did not deter repeat offenders, according to Sunny Beach police chief Staiko Manev. The legal authority for Interior Ministry staff to act against noise polluters was limited, he said.
Veselin Nalbantov, a hotelier, said that the police and the municipality continually transferred responsibility for the problem to each other and the issue of noise remained unsolved for years.
In an open letter to the media, hoteliers in Sunny Beach also complained of other problems – the lack of a two-lane road from Bourgas Airport to the resort, problems with pickpocketing and theft, problems with illegal temporary stalls, while the hoteliers also called for at least one per cent of the revenue from the tourist industry to be dedicated to promoting Bulgaria as a holiday destination abroad.