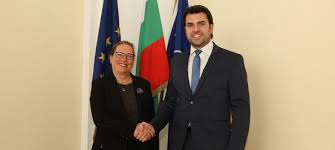 Bulgarian society has proved that it has always opposed and will continue to resist any manifestation of hatred, Deputy Foreign Minister and National Co-ordinator for Combating Anti-Semitism Georg Georgiev said in talks with Israeli ambassador in Sofia Irit Lilian.
"There is a very strong friendship between Bulgaria and Israel and we must work extremely actively to maintain it," Georgiev said, according to a Bulgarian Foreign Ministry statement.
He thanked ambassador Lilian for her efforts to develop the ties between the two countries.
Regarding incidents of anti-Semitic inscriptions on monuments in Bulgaria, Georgiev emphasised that Bulgarian society has proved that it has always opposed and will continue to resist any manifestation of hatred, the Foreign Ministry statement said…/IBNA
Photo: mfa.bg
Read the full article on Sofia Globe