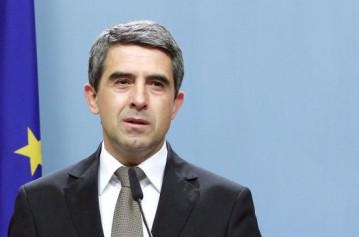 By Clive Leviev – Sawyer of The Sofia Globe
The veto by Bulgarian President Rossen Plevneliev of crucial parts of the Budget 2013 amendments approved by Bulgarian Socialist Party and Movement for Rights and Freedoms MPs has lent new fury to the campaign by the parties in power to demonise the head of state.
After the May 2013 elections resulted in the second-ranked Bulgarian Socialist Party being able, with the direct support of the MRF and the tacit backing of ultra-nationalists Ataka, to take power in Bulgaria, Plevneliev remained the last significant state figure in office whose background had been with the former ruling party, Boiko Borissov's centre-right GERB.
Although Plevneliev, a successful private sector figure before recruited by Borissov to public office, has been careful since becoming head of state in January 2012 to underline that he is guided solely by the non-partisanship of his role as set out in the constitution, his detractors consistently seek to daub him as a servant of Borissov and GERB.
The socialist party has gone so far as, in the words of one of its MEPs Iliana Yotova, as to suggest that when Bulgaria elects its European Parliament members in May 2014, they too should elect a new head of state.
Yotova picked up on the demands in several quarters for new national parliamentary elections on that date to suggest that May 2014 should see "three-in-one" elections – for European Parliament, national Parliament and President.
This is a ludicrously far-fetched scenario because in real terms, the President is in no danger of losing his office, however inconvenient the current ruling BSP-MRF (and Ataka) regime may find Plevneliev.
The President has undergone a term of office, so far, quite unlike that which might have been expected when he was elected.
Then, it seemed that GERB could confidently expect a second term after the parliamentary elections that had events not intervened, would have been held in July 2013.
But the "cost-of-living" protests of early 2013 intervened, and when there was an incident of violence in Sofia, Borissov stepped down as prime minister, opening the way for early parliamentary elections.
In those elections, after a spectacularly dirty campaign of smears against those in office during the Borissov years, GERB still emerged with the largest share of votes, but found itself in a Parliament populated only by political enemies. With no prospect of being able to form a governing coalition, GERB had to give way to the handing of a mandate to govern to the BSP.
This, in turn, saw the BSP form what it called an "expert" cabinet, which in turn embarked on a course of political revenge, blundering, blustering and policies in which all that was clear was their lack of clarity – while the notion that the members of the cabinet were "experts" rapidly became, in the eyes of many Bulgarians, a national joke.
Soon, after the first of the most disastrous of this cabinet's self-inflicted catastrophes, Plevneliev announced that he was withdrawing his confidence in it.
Statements made by the President that were perceived as stating open support for the daily protests of many thousands of Bulgarian demanding the resignation of the cabinet and early elections aggravated hostilities.
Some time after the anti-government protests started, there were "counter-protests". These demanded that the government be "given a chance" while also specifically demanding the resignation and impeachment of Plevneliev. These protests, attended daily largely by a consistently similar group of pensioners along with a rap artist, seldom have drawn more than about 100 people.
Initiatives by this group and by ultra-nationalists Ataka to seek the impeachment of Plevneliev largely have been stillborn. The BSP-MRF-Ataka axis in Parliament simply does not have the numbers to table a motion of impeachment in Parliament and make it succeed.
The government's move to revise the Budget, to correct what in its words were grievous errors by its GERB predecessors, to provide for more social spending and to commit Bulgarian taxpayers to 500 million euro new debt, was widely expected to meet a veto by Plevneliev.
When he acted to impose this veto, doing so amid the summer holiday that the parties in power had voted for Parliament, political emotions against soared amid Bulgaria's August summer heat.
Newspaper Duma, mouthpiece of the socialist party, put all the blame for the situation on Plevneliev, saying that he was prepared to carry out any kind of political order to sabotage the work of the government.
The line from BSP and MRF MPs has been similar, that when analysed, Plevneliev's motives for imposing the veto were not legal nor economic but partisan political.
In an echo of a line taken by a number of socialist party functionaries, finance minister Petar Chobanov said that Plevneliev had taken a political stance inconsistent with the President's role as a national unifier.
Even before the veto, Plevneliev has been targeted by those behind the government and the media closely allied to it. The latter alleged, with no defensible grounds, that Plevneliev had huge undisclosed offshore holdings. This allegation, rejected as untrue by the President on the grounds of records to which the general public had access, was part of a broader campaign to smear Plevneliev as an "oligarch" of the kind rejected by both anti-government and pro-government protesters.
As noted, the current regime lacks the numbers to dislodge Plevneliev through an impeachment procedure, and only the most incompetent and most partisan lawyer would suggest that any of his actions would not survive a challenge in the Constitutional Court.
In turn, however, the BSP-MRF-Ataka axis does have the numbers to cling to power in Parliament, continuing its policy of deaf-and-dumb denial of the demands of the many thousands of protesters who have kept up their campaign against it for more than 57 days.
In this current scenario, all that may be expected is further attempts to smear the President, his conduct in office and his personality; and all that will be, in turn, a part of a continuing political crisis in which – every day – Bulgaria becomes ever more deeply polarised, in spite of calls for dialogue, for compromise, for a way out of the ever-deepening hole; and ironically, some of those very calls come from President Plevneliev himself.