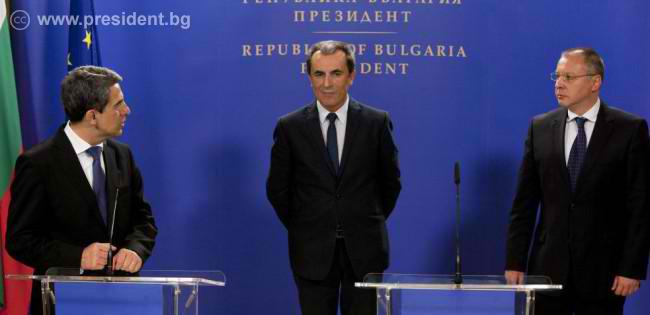 By Clive Leviev – Sawyer of The Sofia Globe
Bulgarian President Rossen Plevneliev has declined a request by centre-right former ruling party GERB to veto changes to the State Agency for National Security Act that were pushed through Parliament by the socialist government and its allies.
The changes are part of an overall restructuring of Bulgaria's security and intelligence system as the socialists seek to roll back changes made by GERB and, they say, dismantle the omnipotent "monster" that former deputy prime minister Tsvetan Tsvetanov made of the interior ministry that he used to head.
GERB, headed by former prime minister Boiko Borissov, slammed the changes as of questionable constitutionality and likely to hamper Bulgaria's fight against organised crime.
After GERB made its request, Plevneliev – above politics as head of state, a post to which he was elected on a GERB ticket – embarked on extensive consultations.
Plevneliev held a series of meetings with representatives of Bulgaria's judiciary, academia, political parties supporting and opposing the amendments to the law, and representatives of the foreign diplomatic corps in Bulgaria.
In a statement on June 12, the Presidency said that as a result of the conversations and a commitment undertaken to make a correction, Plevneliev would issue a decree promulgating the law.
The statement said that the decision by the President was motivated by the established democratic tradition for each new Parliament to be given the necessary credit of confidence in terms of its first legislative initiatives, and the nature and character of the role of the head of state to unite rather than exacerbate differences.
Plevneliev, during the talks, had called on political forces to come up with an integrated approach to furthering reform of the security sector.
He said that he would consult the political forces about convening the Consultative Council on National Security, to discuss continuation of the reform of the security sector on the basis of the principles agreed by all parties during consultations in 2012.
Meanwhile, on January 13, Bulgaria's Parliament was to discuss the first reading of amendments to the law on the use of special surveillance.
The amendments, tabled by Bulgarian Socialist Party leader Sergei Stanishev, the specialised directorate for operative and technical operations will be removed from the Interior Ministry and a new body called the State Agency for Technical Operations set up at the Cabinet office.
The amendments also propose restoring the national office for independent and efficient control over the use of special surveillance.
On January 12, prosecutors lodged criminal charges against former interior minister Tsvetanov for allegedly knowingly allowing Interior Ministers officers at the specialised directorate for operative and technical operations to carry out illegal wiretapping.
Tsvetanov denies any wrongdoing, a position that he has held to since the allegations were raised during campaigning ahead of the May 12 national parliamentary elections.
(Photo, of President Plevneliev, prime minister Plamen Oresharski and BSP leader Sergei Stanishev: president.bg)