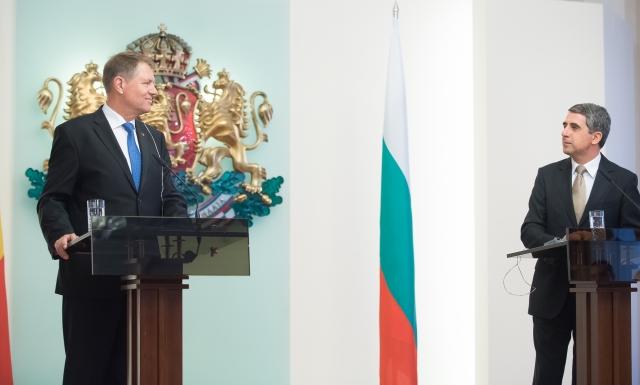 Sofia, June 15, 2016/Independent Balkan News Agency
By Clive Leviev-Sawyer of The Sofia Globe
Energy dependency is the biggest weakness of South Eastern Europe and building a modern energy infrastructure and interconnection of the national gas and electricity grids should be a shared priority, Bulgarian President Rossen Plevneliev and his Romanian counterpart Klaus Iohannis agreed in talks in Sofia on June 15.
Plevneliev, hosting Iohannis on the Romanian president's two-day visit to Bulgaria, said that for Bulgaria, it is extremely important for the interconnector with Romania to become operational as soon as possible and for flow to be reversible.
The gas interconnector is intended to be part of the future North-South energy corridor, the Bulgarian President's office said.
During his visit, Iohannis will visit the construction site near the Bulgarian town of Marten.
Plevneliev said that the implementation of the the Southern Gas Corridor and interconnections with neighbouring countries are the only option in the short term for South Eastern Europe to improve its energy security.
Bulgaria and Romania are factors for stability and security in Eastern Europe and will strengthen their partnership in this sphere and in fighting terrorism, the joint news conference by the two presidents was told.
The changed security environment in the region, due to the crisis in Ukraine, requires a focus on the strategic importance of the Black Sea region in the formulation and implementation of policies of the EU and Nato, they said.
Plevneliev and Iohannis welcomed the US decision to deploy naval units in the Black Sea under the European Initiative for ensuring the security of allies in Europe.
"Bulgaria will support the establishment of the headquarters structure of Nato and the deployment of a multinational brigade in Romania. We expect such a decision to be taken at the Nato summit in Warsaw," Plevneliev said.
He noted that Bulgarian Defence Minister Nikolai Nenchev had said that Bulgaria was ready to send to Romania up to 400 military personnel for training and exercises. Nenchev made the statement on June 14 at a meeting in Brussels with his Romanian counterpart.