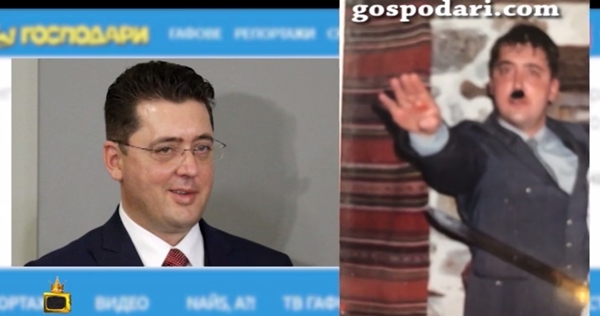 Plamen Uzunov, Bulgarian President Roumen Radev's secretary for anti-corruption and who was interior minister in the January 2017 caretaker government, reiterated on June 13 that he did not see why he should resign over photographs of him at a New Year's party dressed as Adolf Hitler.
The photographs were taken in 2003 and emerged in public last week.
Uzunov, speaking to Bulgarian television channel Nova Televizia, said: "No, my decision is that I do not have to resign and I will not".
The episode is the latest in which a Bulgarian official has been pictured in connection with Nazi symbolism. One official, Pavel Tenev, resigned after two days in office as a deputy minister after a photograph of him giving a Nazi salute went viral. Another official at the Defence Ministry, also photographed giving a Hitler salute, so far remains in office in spite of Prime Minister Boiko Borissov calling for his dismissal.
Uzunov said that the distribution of the photographs of him dressed as Hitler was intended to discredit the presidential institution.
Uzunov told Nova TV that he had spoken to Radev about the Hitler pictures. "He (Radev) is a sober thinker and will not succumb to these provocations."
"I know who is behind this, I will announce them later when I have undisputed evidence. I will also refer this to the relevant authorities," Uzunov said. He had nothing to be ashamed of, he said.
Uzunov has told the media that he had been meant to wear a different costume at the party, but this had not been possible.
Borissov's GERB party has criticised Radev for maintaining double standards, having publicly criticised the display of Nazi symbolism. Borissov has said that he expects that the President would dismiss Uzunov.
Kornelia Ninova, leader of the opposition Bulgarian Socialist Party – which backed Radev's ticket in 2016 – said that demonstrations of Nazi symbols were unacceptable, but it was up to the head of state to make his own decisions about his staff./IBNA